Have you entered the Little Monsters contest yet? Earlier this week we took a look at one of the great...
Have you entered the
Little Monsters contest
yet? Earlier this week we took a look at one of the great prizes being offered - the
Seagate FreeAgent Go
. Now it's time to look at the second prize you could win...
The prize:
Seagate FreeAgent Desk
(for Mac or Windows): A stylish new desktop external storage solution that can be placed flat on your desk or sit on a stand while it protects all of your digital content in one convenient and safe place. The handy FreeAgent Desk from
Seagate
can make your life easier if you're parent looking for a powerful (and lovely to look at) desktop storage solution. Take a look - it's super sleek: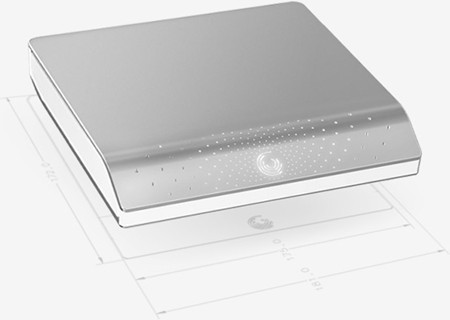 Features of the FreeAgent Go include: 
Vibrant light display (see those little dots) they light up when your hard drive is in use, and fade during sleep mode - cool.
Backs up all your digital information. If your computer crashes, or a virus attacks, your info is safe as houses. You can even set automatic backups.
Brushed metal finish, that's both durable and lightweight.
Eco-friendly because it's energy efficient. Goes into sleep mode after a specified amount of time (which you get to set).
Password protected to protect all your personal files.
You can lay the FreeAgent Desk on it's side or upright - depending on how much room you have on your desk.
Super fast data transfers.
Comes in storage capacities of 500GB, 640GB, 1TB and 1.5TB, which means there's room to save everything - photos, files, images!
Compatible with Windows Vista and Windows XP.
This prize is great if you're a busy parent because one, you're busy, and this is a fast, efficient way to save data, and two, I know you've got oodles of baby photos to back-up. It'd be a shame to lose precious photos of your little one. To learn more visit the
FreeAgent Desk homepage
. If you'd like to be entered to win one of these handy hard drives, click the image below, to learn how to enter the Little Monsters Costume Contest.