All day we've been looking at how to plan a baby schedule and what activities you can do to keep...
All day we've been looking at how to plan a baby schedule and what activities you can do to keep your baby occupied all day long. Following is a 24 hour baby schedule. Keep in mind that the time totals won't add up to a complete 24 hours because you'll also be doing things like feeding and changing your baby. Also, the amount of sleep time each baby needs is variable - some babies sleep more than others. Another thing to consider is that you should also plan some special activities each week, such as coffee with friends,
a play date
, a baby music class or story time at the library. Overall, you can take this basic schedule shown below and adjust it to fit your needs and your baby's needs. As your baby grows you can add and change activities.
See the 24 hour baby schedule...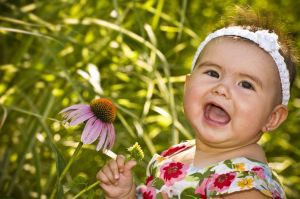 Morning (7 am to 11 am):
30 - 60 minutes good morning routine - a basic good morning routine includes diaper change, breakfast, and getting your baby dressed.
15 - 30 minute morning tummy time - mornings are perfect for tummy time, because your baby's been sleeping on her back all night.
30 - 60 minute morning bouncy seat time - place your baby in her bouncy seat, or a stand up non-mobile activity center and take her into the bathroom with you as you shower. You can chat with her while you scrub.
15 minute morning story time
30 minute playtime
30 - 60 minute morning walk - walks outside are not only entertaining for your baby, but healthy for you as well. Use a front baby pack or stroller. If it's rainy and you don't enjoy walking in the rain, head to the mall for a few laps. If you don't feel like a walk each day, at least get your baby outside for some morning air. If the weather allows, spread a blanket out and let your baby explore and relax.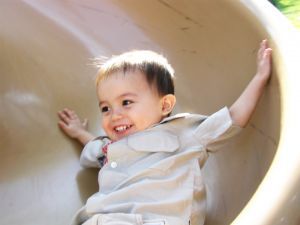 Afternoon (11am to 5pm):
60 minute household tasks - put your baby in a front pack baby carrier and carry her with you as you wash dishes, start laundry, or pick-up. This allows your baby to be close to you, and still allows you to have two hands free to accomplish tasks.
30 minute highchair playtime - while you prepare lunch let your baby sit in her highchair, or if she's still small place her in her bouncy or a baby swing. Give her a board book, or another small baby toy to entertain her.
60 - 120 nap-time - put your little one down before she falls asleep. If she's drowsy, it's good to let her chill out alone before she takes her afternoon nap, because it teaches her to settle some on her own, and all of us need alone down time. You could take a nap now too, or have some time to read or relax.
30 - 60 minute afternoon walk - even if you had a morning walk, getting outside and moving again is still a good plan.
30 minute bold activity - try a new activity such as introducing a new toy, a special baby art activity, listen to music, sing, dance, or paint with your baby.
60 minute solo play - your baby does need some solo awake time. Prop your baby up on a Boppy pillow, or place her in an activity center or playpen, put on some calm music, place toys within easy reach, and let her play on her own for a while.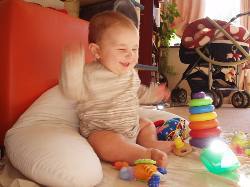 Evening (5pm to bedtime):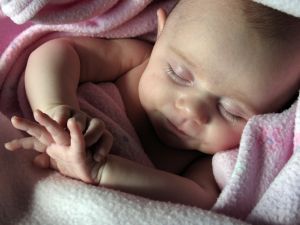 And finally - bedtime!
Babies need plenty of sleep
so bedtime should be early. If you need help with baby sleep time take a look at the following: