Some baby foods keep better than others. Here's a quick guide: THE BASIC RULE: If your baby lips touched the...
Some baby foods keep better than others. Here's a quick guide:
THE BASIC RULE:
If your baby lips touched the food, toss it. Bacteria can grow in any food once saliva is introduced. So, if you have a bottle, and your baby drinks off the bottle toss it. If you have a jar of baby food and you dip a spoon into it that your baby ate off of, toss it. If your child takes a bite of cheese, you can cut off the bitten part and save the rest. Basically, make sure no mouth has touched the food or drink (that means mama mouths as well) and you can safely save it.
Breast milk
: You can store breast milk in the refrigerator for up to three days or in the freezer for 6-12 months. Learn more about
protecting your pumped breastmilk
and see one easy
breast milk storage
solution
Formula
: Prepared formula can be kept in the fridge for two days.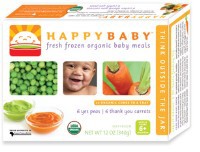 Jarred baby food OR thawed frozen baby food cubes
: Baby fruits and veggies are safe to keep in the jar, in the fridge for about three days. If you serve your baby meat combos, noodle combos, or another mixed jar meal, leftovers should only be kept for a day in the fridge. Another option is to freeze leftovers in ice cube trays for a few weeks.
Yogurt cups
:
Baby yogurt cups
are popular nowadays, it's healthy, yummy, and yogurt takes a while to go bad. If your baby didn't eat out of the container it should be good to save for a week. Make sure to cover up the container though.
Other loose items
- i.e. crackers, chicken nugget, noodles, leftover whole peas: Basic
homemade food items
are usually good for about three days. However, remember the bite rule; don't save a bitten end of anything, or say a bowl of soup your child dipped his spoon into.
Image: Yes Peas & Thank You Carrots meal via Happy Baby - great frozen organics for baby.