We haven't had any baby link love in a while around here - and it's about time. The best way...
We haven't had any baby link love in a while around here - and it's about time. The best way to learn all the best baby tips, is to get out there and hear what everyone has to say...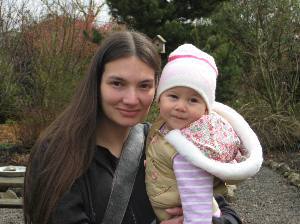 Here's what I've been reading...
Good stuff for single moms around the blogosphere
- I know link love to link love. Odd right? But it's all good, you'll like it.
Unleash Your Inner Child Through Play
- written by head mama of one of the families to appear on Supernanny. Thrifty Mommy fills you in on some
quick ways to clean
, which of course every mama needs.
Pre-baby style: Maternity fashion finds
- the mother load of what to wear while preggers. One of the best posts I've ever seen on this topic - it covers everything you need to know.
6 Ways to Encourage Children To Enjoy Gardening
- This is an excellent post. Too old for babies exactly, but your baby is growing fast, and I can't think of a nicer plan than to make sure your little one gets plenty of outdoor and or gardening time.
13 Decisions a New Mom Makes
- an interesting quick look at some issues you may be considering if you're pregnant or a new mama.
I'm pregnant, but dying for a beer. Can't I have just a little alcohol?
- a very informative read for pregnant mamas.
Inside Fatherhood
- I'm not earmarking any particular post. I just like the whole blog. It's pretty fresh to get a dad's perspective on baby raising. Right now, dad blogger Bill is having some major icky plumbing issues and has a cute cell phone photo post. You know you're wondering what new dads really think about - so go find out. And for something really fun to do, visit this
cool baby ultrasound gallery
! You can even learn how to share your own little ultrasound cutie with everyone.
The photo:
The picture above is my best friend, and her little Bella. How adorable are the two of them! We all went out on an adventure to a pond the other day. It was rainy and cold, but we saw ducks, flowers, and one lone froggy. This is the perfect time of year to take your baby out to explore the great outdoors! If you can find a lake or pond you'll see lots of baby ducks and birds.