The Fatherhood Institute in the UK recently started a campaign to involve fathers with the birth experience. The institute, a...
The Fatherhood Institute in the UK recently started a campaign to involve fathers with the birth experience. The institute, a leading think-tank on fatherhood, notes that, "Maternity services across the UK are disadvantaging children from birth by 'shutting out' their fathers."
Read the whole article about this topic here
.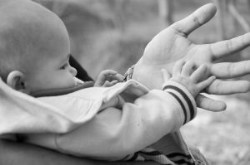 Basically what it comes down to is that study after study shows long-term positive benefits to children, when fathers are more involved. If we limit father involvement in the pregnancy and birth process it may result in a less close father-baby bond, create trouble with the mama-dad partnership, and cause emotional stress on dads in general. When I was pregnant, my partner Ben and I worked for a social service agency that provided support to homeless youth. When I was about six months pregnant, our non-profit decided to send everyone to these massive touchy feeling sort of workshops - to help everyone get in touch with their inner selves. It was one of those sorts of workshops where people get upset, talk too much, and focus on feelings. It wasn't horrid, just intense. Ben and I were scheduled for different workshops, and here's what happened at his: At the workshop they were talking about mother-child bonds, the importance of them, how our homeless youth are missing that often, how mothers make all the difference. My co-worker (a female) was at Ben's workshop too, and told me that Ben completely broke down. He was crying and saying how during the whole pregnancy people were focused on me (the pregnant mama) vs. him. He told everyone that this was not a productive society for dads, and no one ever asked him how he felt about becoming a new father. He said he felt completely insignificant to his unborn baby's life; like he could walk away and no one would notice. He was almost inconsolable from what I heard after the fact. I was completely shocked when I heard that this had happened. Honestly, I had no clue, Ben never said a word to me about feeling cut off. Since then, I've talked to other dads who are just as upset. I'm super good friends with some dads who are very involved with their kids, and most of them note that they felt much like Ben; invisible during the pregnancy and birth process. I think that this is the sort of situation that really shows we have a problem with how we involve fathers in the pregnancy and birth process around the world. It's not to our benefit to alienate dads from the get-go. You can visit the
Fatherhood Institute
to gain some valuable insights into how we can better involve dads right from the start.
Here are some post ideas about involving dads that may help
:
A dad's view on pregnancy
Reasons for dads to attend childbirth classes
Gifts for new dads
Is your hubby acting or is he really clueless?
How to be a zen daddy
Daddy bootcamp
Help your partner to become an active father
Are you pregnant? How involved has your partner been? Do you think he'd like to be more involved?