As previously noted, today is World Health Day. Also noted the theme this year is protecting health from climate change....
As previously noted, today is
World Health Day
. Also noted the theme this year is
protecting health from climate change
. Back in 2005 the theme of World Health Day was
maternal and child health - make every mother and child count
.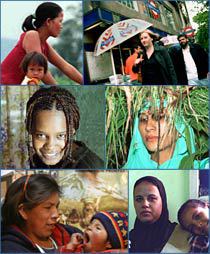 How's that for a nice theme? It was a pretty cool theme and WHO had all sort of neat news and information about this topic up at their site. Information that's still available for you to view. My favorite part of 2005 though, is the segment WHO produced called "
Great expectations
." Great expectations is an amazing story and visual journey of the lives of six very different mothers living in different areas of the world. These mamas shared their stories and experiences of pregnancy, childbirth, and life with a young baby in the year leading up to 2005.
The mamas include
:
Damiana from Bolivia
Samah from Egypt
Hiwot from Ethiopia
Renu from India
Bounlid from Lao People's Democratic Republic
Claire from the United Kingdom
The stories start when the women are 5 months pregnant. Following segments include; 7 months pregnant, birth, one week old babies, six week babies, six month babies, nine month babies, and their first birthday. It's an incredible series and it's amazing to see how all these mothers and their babies lead different lives, yet, have some of the same worries and hopes. It may be one of the best mama/baby related events I've seen. It also points out the problems with maternal - baby care. In some of the areas featured fewer than 20% of births are attended by any sort of skilled care provider - including people like doctors, midwives, doulas, and nurses. You can view the stories and the especially beautiful photography that accompanies each mama and baby at
Great expectations
. When you have a little free time visit the site and journey into the lives of these six mamas - you'll be very glad you did.