I was stuck at home resting at the end of my pregnancy. By the time Cedar was born, social me...
I was stuck at home resting at the end of my pregnancy. By the time Cedar was born, social me was ready to go out the next day. Of course I waited a week. Then we headed to my favorite coffee shop.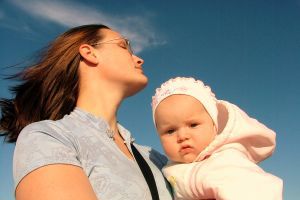 Still, some parents are a little nervous about taking their little one out for the first time. You don't need to be. You know what, your little will likely sleep the whole time. Well, most of the time anyway. Here are some tips for a good first outing.
Wear that baby
: As soon as you get out of the car, pop that baby into a front pack. He'll drift off nicely, and you'll feel more comfortable with right there snug against you.
Be prepared
: If you have everything you need, you'll feel more comfortable going out. Stock a diaper bag with all the essentials; diapers, wipes, extra washcloth, plastic baggie for dirty clothing, a cover up if you're breastfeeding and a bottle if you're not, extra blanker, changing pad, and a baby hat.
Go with a wiser friend
: Although I wasn't nervous taking Cedar out, I was no where near as comfortable as my girlfriend with three kids. I swear she could chase a toddler, order lunch for her five year old, and breastfeed her newborn at the same time. You felt confident just being in the room with her- there's no way anything was going to happen to any baby in the entire cafe, so long as she was there. Find a pal who already has been out with her babe. Learn from her how to handle outing situations.
Remember it's now or never
: Ok, that's an exaggeration, but keep in mind that once your babe becomes a crawler and then a walker, he's not going to love sitting on your lap, as you sip tea and chat with your girlfriends. The time to get out is now, because there will be a frustrating stage after he starts moving where you'll be less fond of going out. Plus, you'll feel better if you get to go out and enjoy some girlfriend time. We all know that a happy mama is a better, more confident mama.