Babble recently posted an article about the popularity of breastfeeding by pump. This means mamas who always pump, and give...
Babble recently posted an article about the
popularity of breastfeeding by pump
. This means mamas who always pump, and give the milk to their baby, rather than breastfeed.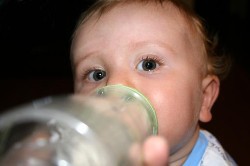 As noted by the article, this activity, of exclusive pumping, is reportedly popular among mamas who among other reasons:
Have no reason to not breastfeed, other than they don't want to.
Feel like it's too hard to breastfeed, or that they don't get the support they need.
Have inverted nipples.
Like the freedom of not being tied to their baby.
The article discusses one mama who feels icky because of the "sexually related" aspects. This is a fairly odd situation, because in my mind breastfeeding is so much less complicated than dealing with pumps, bottles, extra bottle gas, and defrosting. I can't imagine being tied to a pump - at least being tied to your baby is enjoyable and a good bonding experience. The other side of me says I don't care how a baby gets breastmilk; so long as he gets it. Really, I think it's any mama's call. Breastmilk is better than formula hands down - no matter if it comes in a bottle or right from the source. If you want to pump full-time just because it's maybe gaining in popularity, I'd think about the disadvantages before hand. You'll have to get up in the night to feed, pump all day long, cart the pump along with you, babies drinking from bottles have more gas and thus more crying spells, you have to buy supplies like milk bags and the pump. Also, pumping can be just as hard as breastfeeding. I pumped when I needed to be away from Cedar, but it was hard to get a lot of milk. And I had a rock star strength pump. Pumping may not be the easier choice - then again it might. Pumping allows you to work full-time, go out away from your baby for the day, and you can get help with feeding - although you still have to pump, so time wise I don't know that it's saving you time exactly. When it comes down to it, I do think it's odd; but then, I breastfed. For me, that was easy, and the right choice. If you don't want to breastfeed but are pumping; that's a good choice because your baby still receives breastmilk benefits. It's an interesting
article topic
- one I'm sure will be hearing more about.