Getting back to basics; how do you know if you're pregnant? Currently there are some pretty high-tech home urine tests...
Getting back to basics;
how do you know if you're pregnant
? Currently there are some pretty high-tech home urine tests around that can detect pregnancy super early. However, high-tech aside, there are other, more traditional ways to know that you may be pregnant.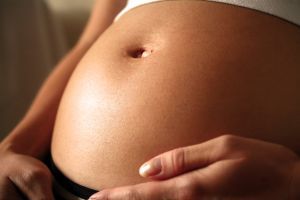 Breast tenderness
: Often this is one of the first physical signs of pregnancy that women notice. Tenderness can also be a stinging (or tingling) feeling, or swollen breasts.
Absence of your menstruation cycle
:Â While women notice this first in the movies it's not a completely correct first sign of pregnancy. So many things can cause you to miss a period -- weight loss, the pill, travel, stress, breastfeeding, and more that it's more a sign to look for if other
signs of early pregnancy
are already present. Plus, some women continue to have a period (or some period-like bleeding) during their pregnancy.
Breast changes
: Changes, such as a darkening of the areola (around your nipple) and more obvious blue and pink lines on your breasts are good early signs of pregnancy.
Morning sickness:
For some women this can start super early on. Other women never feel sick. Of course, nausea and cramping can be caused by lots of things. Period cramps, food poisoning, infections, and common illnesses. Until you see other signs it's not the best single indicator of a pregnancy.
Changes in tissues
: Most women aren't going to notice that their vaginal and cervical tissues are changing colors. But in early pregnancy they will change colors. If you happen to have a doctors appointment for say, a pap, they might notice. Or if you're handy with a mirror.
Just knowing
: Before I was ever pregnant I heard that some women just know when they're pregnant. I thought it was a lot of myth. Then I got pregnant, and I swear, I knew that first week. Before I took the test, before I had any other signs, I just knew. I don't think that all women feel something but I also know that many do. After going through it myself I know it's not a myth.