There's a lot of resting that need to be done during pregnancy -- but rest too much and your muscles...
There's a lot of resting that need to be done during pregnancy -- but rest too much and your muscles will relax a little too much. You can actually get the bod you always wanted during pregnancy. Here's how. You may be thinking, "With this tummy, how can I possible get the body I always wanted?" But that tummy is there for a reason; it's not chub, it's a baby! The rest of you can tone and firm even when pregnant. Even if you've never worked out before. The payoff. An easier time getting back into shape after your baby is born, muscles that help burn fat, and an easier pregnancy and labor. After you check with your care provider go ahead and get into the best shape of your life.
Newbies:
I never exercised (formally) until I was pregnant. Before that I was always slender just because and walked everywhere. During pregnancy I was tired and my metabolism completely turned around. Where I could eat anything before my after pregnancy body can't handle it. If you're new to the exercise game start slow with something easy like 30 minutes a day of low to moderate-intensity walking, swimming, prenatal yoga, or weight lifting. Upper body weight lifting is going to get your arms and back into tip top shape for bending over for diaper changes, breastfeeding, and carrying your bundle of baby -- which is heavier than you might think over time.
More experienced mamas to be
: This is the time to cease in-line skating, skiing, and horseback riding but not the time to lay low either. you can still go on runs, fast walks, or cardio machines -- just be sure you can talk in complete sentences and that you feel clear headed. At the first sign of dizzy stop exercising. Lift weights but use lighter weights than you're used to and do more reps.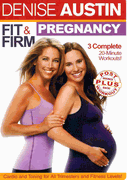 The best plan is maintaining and improving the body you have.
What you don't want is to slide backwards while pregnant because the battle back to fit is just that much harder when most of your time is devoted to your baby.
If you need some peppy encouragement, Denise Austin Fit & Firm Pregnancy is one good DVD to workout with during pregnancy. Denise had an older video that I used but this one is fresh and updated -- perfect for all three trimesters.