It seems like it would be hard to handle three babies at a time (one was tough for me) I...
It seems like it would be hard to handle three babies at a time (one was tough for me) I was curious what our rockin' mama of the day had to say about adjusting to life with three babies. So I asked Susan about it.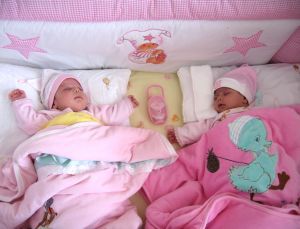 What was the hardest part of adjusting when they were babies?
"The hardest part of adjusting when my triplets first came home from the hospital was the guilt. Unfortunately, when you have three babies it's impossible to hold all three at the same time, particularly when you're feeding one or changing a diaper, etc. Since babies cry a lot, I constantly felt guilty that I couldn't pick up the other two crying babies when I was working with the third."
Was there a surprisingly easy aspect about having three babies at once?
"No."
I suppose I should have seen that answer coming.
Has it gotten easier as your babies get older or more complicated.
"It gets physically easier as they get older but more emotionally challenging. Multiples have to learn concepts very early on that most kids don't learn until they're much older (e.g., sharing, taking turns, etc.)."
What is the number one advice you'd give a mama who has just found out she's expecting multiples?
"Find a support group. For triplet moms, I highly recommend www.tripletconnection.org. Their forums were incredibly helpful to me (and I still visit them frequently)."
Now, not all of us mother multiples and so I asked Susan a question that applies to all mamas.
What the best piece of advice you have for mamas across the board?
"Don't feel guilty. A happy mother is necessary for a happy family. Make sure you take care of yourself, too. You're only one person. Just do your best and love your babies and they will thrive. It's more important to show you love them then to make sure you breastfeed or that they get a certain amount of "tummy time" each day."
Very nice advice.
Just the kind of advice I like to hear given to mamas. You don't have to do it all and be a "super" mama to still rock this motherhood deal. You can do your best and that frankly is perfect. Your baby or babies will thrive and adore you even if your schedule isn't perfectly planned and even if you don't make homemade baby food. The kids will be alright; better than alright because they'll have a mama who isn't stressed out from trying to be everything to everyone all the time. Take a little time and enroll in a yoga or art class that's all you. Read that juicy novel (it might go slow -- but still). When you take the time to care for yourself both you and your babies will benefit.
Finally...
I'd like to say thank you to Susan, her husband and toddlers for opening the door to their family's world so that we could get a glimpse of what it's like to live in a home with triplets. And a huge additional thanks to Susan for her wonderful thoughts on mamahood, work, advice and more. It was great having another mama who rocks here with us today. Don't forget, if you'd like to stay current with Susan's busy world visit her at
Brandcurve
,
Marketing Blurb,
or
Disney Families & More
.
Are you a mama who rocks? Are you supporting mamas as much as you can without judging? Let me know in the comments how you're doing this.