I know that you're all out there reading this blog -- and I appreciate each of you who visits. But...
I know that you're all out there reading this blog -- and I appreciate each of you who visits.
But something to consider is just how important your comments are.

I value your opinion because it helps to make this blog a better blog. More importantly, other mamas read what you think and gain insight when you leave a comment.
That said, Pregnancy & Baby has decided to have a contest to encourage reader participation. All you have to do is leave one comment on any one blog post between now and August 20th (12pm Pacific time) and your name will be entered in a random drawing to win a fabulous prize. I'll announce the winner in a post later that evening.
I know some of you may think you have nothing to contribute -- that's not true. Each of you has something worth saying.
Here are just some examples of stuff you might say in the comments...
Suggestions for this blog.
Why you like the blog.
Why you disagree with everything I say at this blog.
Ideas for a post.
Questions you have about pregnancy or babies.
Questions you have about me.
Your favorite baby product, book, or clothing line.
Brags about your awesome baby.
Why you're a mama that rocks.
Why you think leaving comments is lame.
One comment. Anything you want. Any length you want. AND there's no need to leave your full name if it makes you uncomfortable -- I'll post the winning comment; so there's no need.
Here's what you'll win if your name is drawn: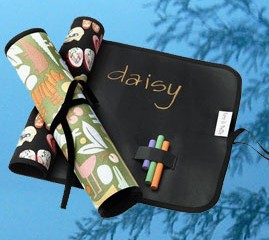 Remember the great
Sam & Bellie
items I shared with you the other day? If you liked what you saw (and I'm sure you did) then today is your lucky day. The nice folks at Sam & Bellie are going to send the winner of the first P&B contest one of their amazing
Chalkmats
! The go anywhere activity play mat for you little one. It's a really great prize from a hip shop. So remember to leave a comment on any post from now until August 20th and you and your little might get this great product free.
Good Luck!