A recent study, "Pregnancy Acceptance, Parenting Stress and Toddler Attachment in Low-Income Black Families," reports that accepting your pregnancy is...
A recent study, "Pregnancy Acceptance, Parenting Stress and Toddler Attachment in Low-Income Black Families," reports that accepting your pregnancy is the first step towards a healthy mama-baby bond.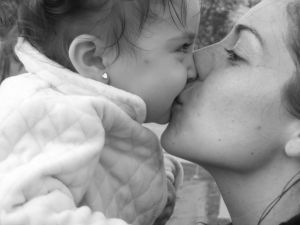 The study, published in the Journal of Marriage and Family, found that:
"Mothers who were not accepting of their pregnancies had a greater tendency to later feel that parenting is burdensome.... The relation between mothers' pregnancy acceptance and toddler attachment security is noteworthy because if attachment problems continue into the later years, the child could have self-esteem problems, difficulty learning and a harder time forming relationships."
What if you were so surprised by your pregnancy, that it is hard for you to accept? What if it seems so unreal to you, that true acceptance is a long way off. What if can't even decide if you want to be pregnant? First, you should know that many mamas feel this way. It's a new and huge event to be pregnant. It doesn't matter if you planned it or not; it can be hard to adjust. You are not alone; no matter how you feel. Non-acceptance of pregnancy can lead to depression as well as affect the bonding process so try to talk with someone who can help.
Here are some tips that may help you to accept your new pregnancy.
Visit a great web based support forum for pregnant women. You'll meet mamas from all walks of life who have the same issues and questions you do; as well as gain advice and support from mama's who have been there.
If you're feeling bad about your body changing, schedule a pregnancy exercise or yoga class. Get out and walk in the fresh air. Massage has been known to help with poor body image -- it's unclear why, but maybe because someone is appreciative of your body during a massage.
Discuss any feelings you have with your partner. You may think your partner won't understand or will feel badly that you feel non accepting of the pregnancy. But clearing the air can go a long way towards making you feel better.
Find a friend you feel you can be honest with and unload your frustrations; a real friend will still love you no matter what you say.
Visit a health care provider. Even if you're unclear about how accepting of this pregnancy you are, don't neglect prenatal care. One of the jobs your care provider will have, is helping you to come to terms with all the changes you're going through
If you do feel like you need more help don't hesitate to seek out a counselor. Post partum depression is discussed often, but some women do feel depressed during their pregnancy as well. It's a stronger move to ask for help, rather than to let your feelings brew inside of you.
If you ever feel very upset and need to talk with someone, try one of the following:
Toll-free prenatal care hotline. Assisting pregnant women and others seeking information on prenatal care, including health care referrals. Assistance is available in English at 1-800-311-BABY (2229) and in Spanish at 1-800-504-7081
Visit HealthyPlace.com for more toll-free helplines and to find support for depression or other anxiety-type feelings.