Across the board birth interventions are rising. It's alarming because what that says to me is that mamas are not...
Across the board birth interventions are rising. It's alarming because what that says to me is that mamas are not being given the information they need about healthy and normal births by their health care providers.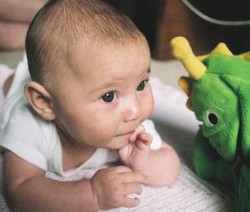 My best friend gave birth just after Christmas this year.
I was there for the entire labor and birth. My friend wanted to have birth in a hospital because she felt like she'd be more comfortable there. But she also had me. I've worked as a doula and am normal birth obsessed so she felt comfortable going into a hospital where she knows interventions are commonplace because she had me along.
Still, we had struggles
. Her labor stalled once for an hour and right away talk of inducing labor with drugs started up. My friend said "No thanks," even though they kept bringing it up. She did nipple stimulation and we used a birthing ball and then we walked and walked (we walked for hours) and her labor went on normally. We avoided the staff and breathed in and out and she got into a tub of water. After less than 5 hours of hard labor her little girl was born completely healthy and drug free. My friend held her baby right away and breastfed (she's still exclusively breastfeeding) and looked picture ready to boot (darn her). It was a huge amazing honor to be there. This is what I would call a very positive birth story and very much not the norm for a hospital birth.
Typically hospital births are more like this:
Cesarean birth rate are skyrocketing to all time highs in Canada and the U.S. The media and certain health care practitioners are doing their best to make it seem as though more mamas are asking for elective cesarean births. However, a recent study by
Childbirth Connections
shows that while 32% of the mamas they talked to received a cesarean only one of 252 mamas reported asking for a medically unnecessary cesarean. This study covers only women who gave birth in a hospital setting.
Other less positive findings from the study include:
79% of mamas received care from an obstetrician not a midwife.
96% of women receiving hospital based care had never met the doctor delivering their baby until the birth.
Technology-intensive births were the norm.
Most mamas experienced all of the following interventions during labor: electronic fetal monitoring, vaginal exams, IVs, epidural, and urinary catheter.
Half of the mamas experienced one or methods of labor inducing techniques.
Only 11% had a vaginal birth after a previous cesarean with more mamas saying that they wanted that choice but their doctors or hospital protocol said no.
A whopping 39% of babies were not placed into their mother's arms until an hour after the birth.
Only 51% of mamas were breastfeeding exclusively one week after the birth.
Of the women the study spoke with
only 2% experienced
all the care practices that promote normal birth. Following are going to be some posts that cover what you can do to make sure that you have the most healthy and normal birth possible for your personal situation. So stay tuned.
If you have any questions about normal birth leave them in the comments and I'll make sure to cover them over the next day or so.