Tips On Finding The Right Playgroup Or Moms Group That Allows You And Your Child To Fit In And Feel Comfortable, As Well As Have Fun With New Mom Friends.
Becoming a mother, while wonderful, is challenging. Let's face it, no one wants to admit she may feel inadequate or question her instincts. Attending a playgroup or a moms group is a great way to meet other new moms while your child also meets new friends -- but what happens when you're looking for a connection, but end up in a competition? From homebirth to hospital, breast or bottle, stay-at-home mom or returning to work, issues can definitely arise. Here are some ways to find the right playgroup for you and how make the most out of it.
Ami Burns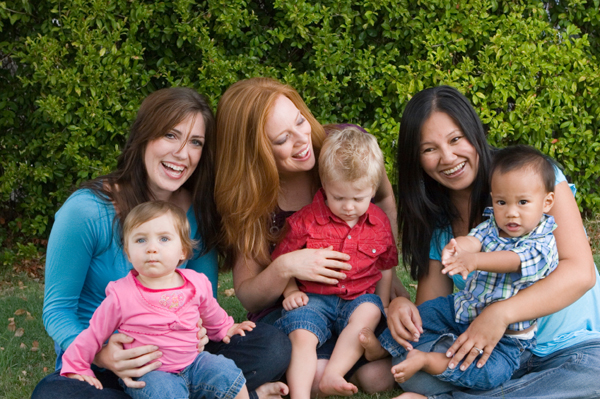 How can you find the right playgroup for you?
How to join a playgroup
Good places to find a new moms group include local community centers, places of worship, or even in your neighborhood. Some maternity retail stores also offer groups. Some groups are informal, where moms can "drop-in" with their babies, chat together and have a cup of team. Other groups may have a professional facilitator who leads the group discussion about particular topics. There may be groups in your community for nursing moms, back-to-work moms or moms of multiples.
Fitting in
If you're not in a specialized group, chances are very good that there will be a blend of moms who bring very different experiences to the group. It's not difficult for a new mom to feel judged about whether she had pain medication during her birth, if she's formula feeding or if she "wears" her baby all day in a sling or co-sleeps instead of "Ferberizing" the baby in a crib.
Judgment
Nancy Holtzman, RN, BSN, IBCLC is the VP of Programs and Services at Isis Maternity (www.isismaternity.com) in Boston, MA. "It's important for a parent to feel confident in the choices they make for their own family, but also to keep an open mind that other families may make other choices. Everyone has their own child's best interest at heart. I think all moms can appreciate that. I find most new mothers may be very passionate and want to speak about areas they feel strongly about but are usually able to resist crossing the line into judgment. And feeling judged may come from within."
Dawn M. is a new mom who felt judged in her group. "I was just feeling my way along. I didn't breastfeed and organic was way down on my to do list. I seriously had no idea adult women could be so catty and spiteful."
Should you stay or should you go?
"If a group isn't the right fit, give it a try for a few more weeks, unless you truly feel uncomfortable or unwelcome," says Holtzman. Even if you still don't click, you'll have had some outings and your baby will have a stimulating new environment for a couple of hours. It's quite likely you might meet even just one person you connect with, even if you don't return to the group."
Dawn M. didn't leave her group – she took over.  "I went to each member and proposed a new, kinder happier place where all where welcome and politics were not. Also I made a website, got brochures printed and campaigned new members. Now we have a group   of 40 or so women, great speakers for meetings, fantastic events, a  local shopping discount for members, and 3 groups of play dates."
Enjoy each moment and trust your instincts
The first few months with a new baby are wonderful and challenging all at once. Whether you join a new moms group or not, take time to enjoy motherhood. Trust yourself and your baby to do what's right for you. That's as "real" as anyone can ask for!
Why not bond with expecting moms and new moms right here at our SheKnows Pregnancy & Baby message boards. Check them out here!

For more information on playgroups: