From The Kid's Room To The Kitchen, Find Out Easy Ways To Keep The House Clean
Have you ever noticed how hard it is to vacuum with a toddler on your hip? When you become a mom, your house gets messier, yet you have even less time to clean. That just doesn't seem fair! Don't worry. We've got some mom-tested-and-approved tips to help make cleaning a breeze. (You may even have time to kick your feet up with a magazine before the little ones wake from their naps ready to make a mess!)

Molly Cerreta Smith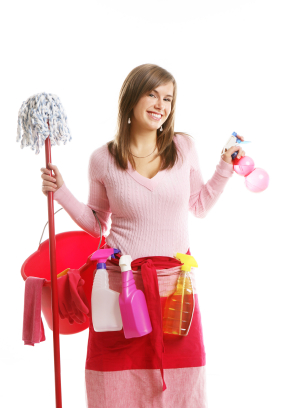 Yes, you can keep your house clean -- even with a new baby! Follow our room-by-room advice:
Kitchen/Bathroom
The kitchen and bathrooms should be the cleanest places in your home to avoid spreading germs. In these areas, keep pre-moistened sanitary wipes so you can wipe down countertops and sinks as soon as you are finished in that area. It will only take a few minutes, but it'll save you time in the long run.
Family Room
Instead of buying dry-cloth dusting sheets, save your old dryer sheets – they do the job just as well, according to Tina, mom of three. She also has discovered that less really is more when it comes to décor. "I used to have tons of picture frames and little things on my shelves. They took forever to dust." After she pared down, she found she wasn't spending as much time dusting each little spot.
Nursery/Playroom
If you understand this one little thing, life is going to get a lot easier for you: There is a difference between a dirty room and a messy room. Your kids are going to dump their blocks all over the floor. They may empty the contents of their toy boxes on a daily basis, but remember — they're kids! Their soul purpose at this young age is to play and have fun. So, let them.
It is your job to make sure the carpet is clean and vacuumed on a regular basis, their furniture and blinds are dusted, and their sheets are clean (things you can do while they are playing in another room or outside in the sandbox with Dad). Don't follow your kids around all day picking up after them. Remind them that if they are done with a certain toy or game, they have to put it back before they can start something new.
Teaching them how to clean up after themselves is a valuable lesson. Myra, mom to four-year-old Sara, says her daughter knows that at the end of each evening, she must put all her toys on their shelves or she doesn't get to have story time (with a cookie). "It's a small bribery, yes, but I don't have to spend time every day picking up after her. And it has taught her responsibility."
General tips
In an article for HGTV, home economist Deborah Taylor-Hough suggests taking five minutes a day to clean up each room in your home. While you can't accomplish any deep cleaning in this time, it will keep the clutter and "mess" under control.
More busy mom cleaning tips:
Consider organizers where they make sense, such as a magazine rack in the bathroom and a receptacle in the tub to organize and air out bath toys. If your kids' playthings often make their way into the family room, consider an ottoman or coffee table that doubles as place to stash toys quickly if an unexpected guest stops by.
On a regular basis, wipe down kids' plastic toys and toss their stuffed animals in the washing machine.
Commit to bigger jobs when the kids are napping or down for the night, such as sweeping, mopping and vacuuming (so long as the noise won't wake them), washing windows and walls, and scrubbing showers.
Clean out those closets and let the kids help you! They love to play dress up, so make it a game. Start a donation pile that they can play in while you are weeding out things that you no longer wear. Don't forget their closets, too. They grow so fast – chances are last spring's fashions are a bit too small for them this year. Play "fashion show" and ask them model their clothes for you so you know what to keep and what you need to replace.
Natural products are not only inexpensive, they are also non-toxic. Consider borax for scrubbing sinks and showers and good old-fashioned white vinegar for cleaning floors, faucets, windows and mirrors.
Read More: