Tips On Keeping The Spark And Romance Alive After Baby Is Born
Caring for a newborn can be time-consuming and utterly exhausting, which doesn't exactly put a new mom in the mood for a little, ahem, alone time with her hubby. But keeping the romance alive once your new bundle arrives is not impossible – after all, where do you think the next one is going to come from? Though finding time in your lives for some solo time may be a little tricky, it is much needed for both you and your husband, who may be feeling a little slighted since the new baby arrived. Here we offer some advice from busy and exhausted moms on how to maintain the spark in your relationship.
Molly Cerreta Smith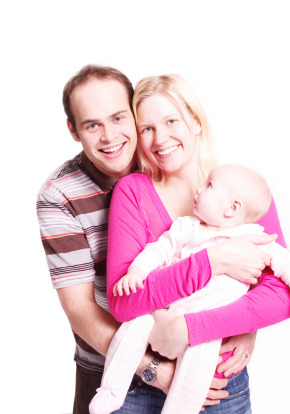 Make a date night
Amber Jones, mom of five-month-old Wesley and 17-month-old Jordyn, says her and her hubby make a date night once a week — and they stick to it. "It's our night that we get to look forward to each week," says Jones. "Even if we use the time to stock up on diapers, then go get ice cream, it's time we have that's just us."
Make any (or every!) night special
Date night doesn't have to be an evening spent on the town. Make time with your husband after the kids go to sleep. "Sometimes after we put Mason down for the night, my husband and I put on a movie, split a bowl of ice cream and snuggle on the couch," says Melissa Mahon, mom to 13-month-old Mason. "It makes just vegging in front of the TV a little more intimate, which usually leads to some steamy action in the bedroom."
Don't lose that touch
Kim Dawson and her husband constantly used to hold hands before the arrival of their newborn, Max. But with carrying the diaper bag and pushing the stroller, finding an extra hand for just holding didn't seem like the first priority anymore. "It was something so little, but I really missed the wordless bond that came with the hand-holding," admits Dawson. When she shared this with her hubby, they came up with a new plan. "Now Adam pushes the stroller, and I'll link my arm through his or rest my hand on his lower back. Maintaining that touch is really important."
Do something sexy
Catch your man off guard by accosting him for a little daytime nookie during the little ones' naptime (this is a bonus for you, too, since by nightfall you may be too tired to be sexually inspired). Try a new position or even have sex in a room in your home that you normally wouldn't consider for a little afternoon (or anytime) delight. "By eight o'clock, I'm a zombie and I really have to put in the effort feel sexy after schlepping around in sweats that are often covered in spit-up and snot," says Danielle Brooks, mom to twins Abigail and Matthew. "So I change into something decent and I try to remember what our sex life was like before we were parents."
Get out of town
Sometimes a little downtime together after the kids go to sleep just isn't enough to revive the long-lost spark in your relationship. So, take a trip sans little ones. Choose a romantic destination that neither of have visited before, or return to your favorite romantic spot. It doesn't matter where you go or what you do, as long as you are doing it together. "When John and I need some time alone, my parents take the kids overnight and we take a little day trip, do some hiking, and then have a fabulously expensive, romantic dinner," says Stacy Kinsley. "Our rule is no matter how tired we are, no one goes to sleep before sex." Enjoy a stroll along the beach, a visit to some big-city museums, or hunker down at a cozy bed-and-breakfast. Whatever you do, don't just sit in front of the TV in your hotel room. The bed should be reserved for only one activity besides sleeping.
Share a shower
Your days of lounging in a hot bath á deux complete with bubbles and bubbly may be over for a while, but that doesn't mean you can't share an intimate morning routine – on the quick. Instead of alternating showers, jump in with your man and share the suds before the kids wake up. It could be the perfect way to rev things up for the rest of the day.
Read More: