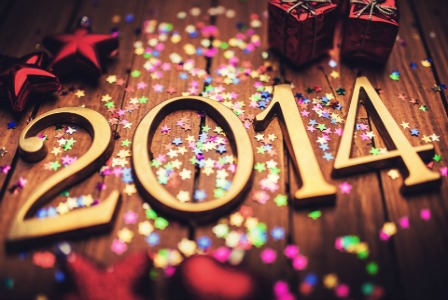 Who says you can't celebrate the new year without cracking open a bottle of champagne? If you're expecting when Dec. 31 rolls around, ring in 2014 in these surprisingly simple and fun ways. (No alcohol needed!)
Celebrate 2014 with baby on board
Take a babymoon
Your time as just a twosome with your partner is dwindling as you near your due date. Take advantage of this alone time and plan a babymoon over New Year's Eve at a swanky resort or in a cozy log cabin in the woods.
Practice parenthood
Chances are you've got some friends who are new parents — and chances are they are in need of a night out. So why not offer to babysit their little one while they enjoy a long-awaited night on the town? It will give you and your partner a chance to "test drive" your parenthood skills! And we're willing to bet the couple will be more than happy to return the favor when your little bundle arrives.
Movie marathon
Host a movie marathon party with a fun baby-centric theme for all your friends who are either expecting or have recently become parents themselves. Rent movies like Baby Mama, Baby Boom, Knocked Up and What to Expect When You're Expecting, instruct guests to come in their cozy sweats or pjs and ask each guest to bring a serving of the food she's been craving the most during her pregnancy to share with the group!
Prep baby's nursery
Hunker down in baby's room and finalize any last-minute preparations like putting the crib together or painting the room. Take a break to snack on popcorn and sip hot cocoa with a crackling fire in the fireplace.
Romantic dinner à deux
Instead of waiting forever for a table at a nice restaurant on New Year's Eve, plan a fancy three-course meal in your very own kitchen. Research recipes with your man, do the grocery shopping together and then get your hands dirty in the kitchen while preparing your elegant meal for two. Fill your champagne glasses with apple cider and raise a glass to the next chapter of your lives together!
Host a kid-friendly NYE party
If your baby-on-the-way is not your first and most of your friends are parents, too, why not host a family-friendly New Year's Eve party that's suitable for all ages?
Offer to be the DD
If you're feeling energetic and still love going out during your pregnancy, there's no reason you can't hit the parties or clubs and dance the night away. Offer to be the designated driver for the night and let your partner and your friends let loose while you sip sparkling water.
More on pregnancy and the holidays
6 Holiday foods to avoid when you're pregnant
How to relax during the holidays when you're pregnant
Handling holiday travel