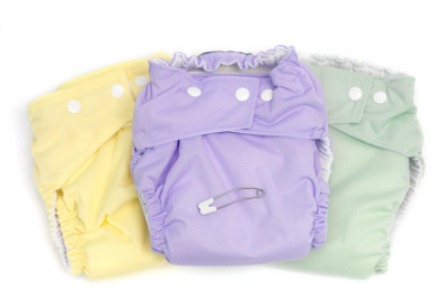 From party games to gifts, here is how to incorporate some really cute and adorable cloth diapers into a baby shower for a mom who is planning to use reusable diapers.
Reusable diapers for your games and gifts
If you're throwing a baby shower for a mom who wants to use cloth diapers, you're going to want to do things a little differently than you would for a traditional baby shower. These tips will help you incorporate reusable diapers into gift-giving and even baby shower games.
Build a registry
Make sure that the mom-to-be registers for cloth diapers if she can. While not very many mainstream big-box stores carry quality cloth diapers in the store, they often do online. Target, for example, has a pretty impressive online selection of different brands of cloth diapers (such as Charlie Banana, bumGenius and FuzziBunz), and Mom can add those to her registry.
Plan for disposable gifts
Many generous baby shower guests will add a package of disposable diapers to the gift they're planning to give, so if you're hosting the event, put a little note in the invitation to mention that the mother isn't planning to use disposables. If a guest brings some anyway (which is likely), the mom-to-be can often take them back to the store for store credit (if the store carries that brand). She also might consider donating them to a local organization that helps children, or even keep one or two packs on hand in case of emergencies.
Offer cloth prizes
Many baby shower hosts plan games and will offer a gift for the winner to open to give to the mom-to-be. It's really easy to incorporate cloth diapering into this. You don't have to buy a more expensive cloth diaper for the gift, but you can give smaller cloth diapering accessories or items. Cloth wipes are a good choice, such as AppleCheeks Rayon from Bamboo Wipes (Amazon, $14 for 6) or OsoCozy Flannel Baby Wipes (Amazon, $11 for 15). Other fun choices are Snappi Cloth Diaper Fasteners (Amazon, $6 for 2), OsoCozy 6 Pack Birdseye Flat Diapers (Amazon, $10) or even a pack of prefolds from Bumpkins, given one at a time (Amazon, $13 for 6).
Cloth diaper cake
You may have heard of a diaper cake — a really fun and elaborate construction in the form of a cake, but built from diapers, usually disposable, and other baby necessities. Making one with cloth diapers would really make a mom-to-be feel loved. We turned to Pinterest for inspiration and ideas, and they can even be made to order if you're pressed for time.
Cloth diaper game
Instead of the fun (yet sort of gross) melt-the-candy-bar-in-the-diaper game, get a life-sized baby doll and have a rousing round of "cloth diaper the baby." Demonstrate once, then hand each participant a cloth diaper and a blindfold. You can use an "easy" cloth diaper, like a pocket diaper that has velcro, or really challenge the guests and use a prefold diaper with a Snappi. If you're really feeling like having fun with the party, offer them diaper pins instead!
A baby shower for a mom who wants to uses cloth diapers is not only possible, but it can be lots of fun for everyone involved if you use a little creativity.
More on cloth diapers
Cloth diapers for the modern parent
Cloth diapers appearing in retail stores
How to cloth diaper on a budget