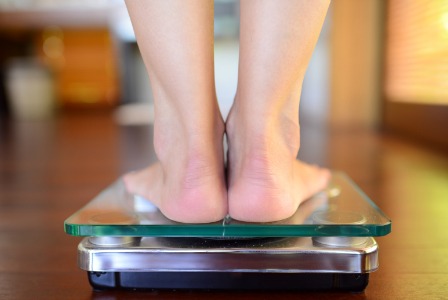 I eat a lot when I'm pregnant. OK, I eat a lot when I'm not pregnant. So while gaining weight was never really a problem for me when I was pregnant, I have to say I never fully considered it could be an issue for some women.
Battling an Eating disorder while pregnant
As any pregnant woman hears — repeatedly in some instances — the recommended weight gain during pregnancy is somewhere in the 25 to 35 pound range, something most women have no problem reaching. In fact, some of us have trouble staying in that range.

But for women who struggle with eating disorders, not only is gaining weight a struggle during pregnancy, but it can also be life-threatening.
Holly's story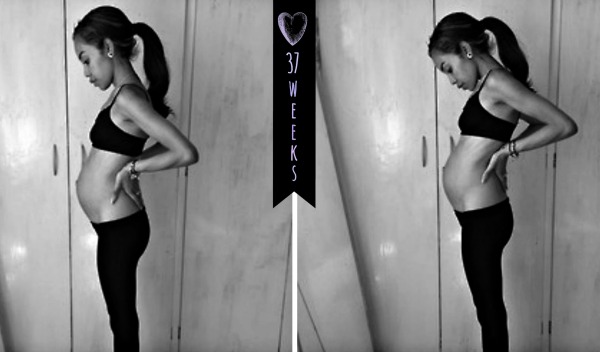 Holly Griffiths is a 22-year-old mother of two. On her blog, she writes about a lot of things that moms blog about — her emotions about becoming a mother for the second time, wondering if she had enough love to bring another child into the world, decisions on working and balancing motherhood, and also lots of healthy, gluten-free recipes.
But Holly is not your ordinary mommy blogger — she is also an anorexic.
Holly has spoken openly about her battle with anorexia — which she developed at the age of eight under the intense pressure of ballet — on her blog and YouTube channel. An article about Holly was published on the U.K. Mail Online website when she was still pregnant with her second child, a daughter she named Isla.
The article described Holly's struggles with anorexia and the health concerns that the disease brought upon the young mother and her children while she carried them during her pregnancies. During her first pregnancy with her son, Dylan, now 2, the size of the baby proved to be too much for Holly's fragile body. The baby cracked her ribs and threatened to crush her lungs, prompting her doctors to induce labor at only 37 weeks.
Pregnancy and eating disorders
According to the American Pregnancy Association (APA), approximately 7 million women in the U.S. are affected by eating disorders, and incidentally, those eating disorders also tend to peak during childbearing years. For women struggling with eating disorders, pregnancy can prove an especially trying time as they watch their body change in ways seemingly beyond their control. Not only do many women with eating disorders have difficulty conceiving in the first place (anorexia especially can cause a woman to stop ovulating), but there are several negative consequences of eating disorders, including: 
Premature labor
Low birth weight
Stillbirth or fetal death
Increased risk of cesarean birth
Delayed fetal growth
Respiratory problems
Gestational diabetes
Complications during labor
Depression
Miscarriage
Preeclampsia and high blood pressure
Increased risk of postpartum depression
Low rates of breastfeeding success
After being interviewed by several news sources and having her story broadcast nationally, Holly proclaimed on her blog why she had decided to bring her story her forward. She wrote:
"Anorexia ravaged my life. It ravaged my mind, body and soul."
"Anorexia ravaged my life. It ravaged my mind, body and soul. Destroyed relationships and opportunities and put my family through hell. No matter the progress I've made I'm still struggling and still fighting.
"And then I think about mothers or mums-to-be in this situation. The judgment and stigma I've faced and I fear for them... Fear of judgment stops people [from] getting help. Fear of having your child taken away from you or being branded as selfish or a bad mother.
"I wanted to show that you can get help, that you don't have to be afraid and that you can have happy, healthy children despite battling with an eating disorder. I wanted to show that it's possible."
Maintaining a healthy pregnancy weight
The APA also maintains that women struggling with eating disorders can have healthy babies providing that they can maintain a healthy weight during their pregnancies. And after working hard to maintain her weight during pregnancy Holly's daughter was born healthy — and quickly — on July 20 after another induction, weighing in at an impressive 5 lbs. and 10 oz.
I interviewed Holly to talk about how it felt to battle anorexia during pregnancy. I know, during my pregnancies, that the pressure on what we eat is immense. I can't imagine battling an eating disorder on top of that pressure.
"It was incredibly difficult because I was following a meal plan and physically having a healthy relationship with food while psychologically my brain would struggle to catch up," Holly told me. "I had good and bad days though. And there was a lot of guilt on bad days for wanting to restrict which of course would mean restricting what I was able to give Isla."
"Guilt becomes a reason to self-punish and my way to do that had always been to deprive myself."
Like any mother, Holly struggled with feelings of guilt about what she ate, how much she ate and how much weight she would gain during her pregnancy. With anorexia, however, that guilt reached an entirely new level.
"Guilt becomes a reason to self-punish and my way to do that had always been to deprive myself," explained Holly. "So dealing with those emotions became massively important to me. It got easier over time. And I learned how to counteract the negative emotions."
Fortunately, after the birth of her daughter, Holly says she is doing better in her battle against her eating disorder. She has shared her story openly and hopes to reach other young women suffering from similar struggles. In a recent YouTube video, Holly posted about her struggles and recovery one month after giving birth. "I'm down to 98, 99 pounds," she says in the video. "I'm doing really well."
More about pregnancy health
What's safe to eat while pregnant?
Can I make love while pregnant?
Yoga and your pregnancy