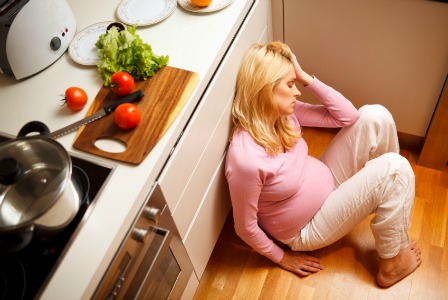 Stress is a normal part of pregnancy, but usually you can find ways to successfully deal with it before it gets out of hand. Fortunately, these tips will help you out when you need it most.
Relationship, job, finances and health
Contributed by Jessica Remitz
Stress is an unfortunate — and almost certain — side effect of being pregnant. From worrying about your body to being frazzled about maternity leave, chronic stress during pregnancy can be linked to lifelong risks for children, including anxiety and aggression. While minor worries won't do any real harm, it is important to get a handle on your pregnancy stress safely. Get some tips on how to work through four common stressors during pregnancy, below.
Your relationship
Expect to encounter a variety of emotional hurdles with your partner throughout your pregnancy and remember that even in extreme situations, good communication and a cool head can help tackle these problems smoothly. Take the time to address all areas of concern for both of you, including parenting duties, division of chores and sleep deprivation — without lashing out at each other. You can also try enrolling in a parenting class to meet other parents with similar due dates or sign up for marriage counseling to work through any lingering issues and find ways to communicate successfully before the baby arrives. Get more pointers for dads-to-be here.
Your job
Worried about your job surviving after you've given birth? If you're stressed out every time you have to leave work for the doctor — or are panicking over missing work during maternity leave — arm yourself with as much information as possible. Become familiar with the Family Medical Leave Act, which allows for 12 weeks of unpaid maternity leave and will hold your position, or an equivalent one, until you return. The Americans with Disabilities Act also allows pregnant workers to be treated like other employees with disabilities and can help support you financially while you're on leave. Talk to your human resources department about your company's maternity leave policy. Also be sure to communicate your plans for returning to work and if you'll be checking in during your leave with your supervisor. You'll also want to talk to other moms in the office to see what expectations were during their maternity leaves and how the company treated them to avoid any surprises before or after you take time off. Learn more about balancing motherhood with your work life here.
Your health
Combating a preexisting medical condition — such as cancer or lupus — while pregnant will be physically and mentally taxing. Seek out support from your partner, family, friends and a doctor that specializes in high-risk pregnancies — and if you're on bed rest, online support groups can be a lifesaver. But what if every little symptom, from spotting to Braxton-Hicks contractions, causes you to panic? Help calm your anxiety by learning as much as possible about the normal symptoms, conditions and stages of pregnancy through legitimate sources like government health organizations. You should also call your practitioner to talk through the issues you're having (or think you may be experiencing) right away to help put your mind at ease and determine if you need to see a doctor.
What's the worst thing you can do? Trying to manage your own care or fears about giving birth. If you develop a medical condition during pregnancy, work with your doctor immediately to get the medication and help you need. If you have serious fears about childbirth (a condition called tocophobia), talk to a counselor. Working with professional caregivers will help make sure you and your baby stay safe throughout the remainder of your pregnancy and beyond delivery. Check out this week-by-week guide for more information on maintaining your health and keeping your baby safe.
Your finances
It's no secret that babies are expensive — and their cost can be a major source of stress for many parents-to-be. Fortunately, planning for your child can help you understand the costs involved and prepare yourselves for the financial road ahead. Consider building a yearly budget that includes the costs of a baby, which can be up to $11,000 a year depending on where you live. Additional costs, like paid day care, can increase this yearly cost. Once you've built a reasonable budget, brainstorm ways to save money — like breastfeeding instead of using formula and buying baby clothes at thrift stores or consignment shops — which can help trim costs where possible. Track your spending and income through a free online budgeting tool like Mint.com or Quicken to make sure you're within the confines of your budget and, if possible, eliminate as much existing debt as possible to make room for more baby-related expenses. Check out some money saving tips from real families here.
For more tips to maintaining a safe, healthy and happy pregnancy, check out the FitPregnancy survival guide here.
More on pregnancy health
Healthy road trip snacks and meals
8 Expert tips for healthy pregnancy nutrition
Dental care during pregnancy: What you need to know