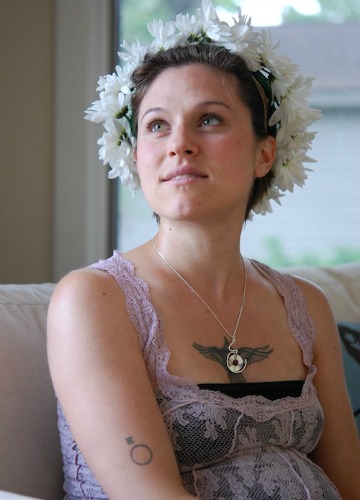 A unique way to celebrate you
Consider having a mother blessing to celebrate your passage into motherhood, instead of a traditional baby shower. Enjoy pleasures, pampering and celebration as friends and family help you to prepare emotionally for your labor and birth.
A mother blessing is full of lovely traditions, friendship, good food and laughter.
What moms say about a mother blessing
We talked to several moms who had this type of celebration. Here's what they said about this special time.
"Fill the room with women who support you as a mother," said Angie G. "Invite guests from all walks of life and don't be afraid that they won't be 'into' a mother blessing. They are there to show love and support."
"My mother blessing was absolutely lovely!" proclaims Angela E. "It was so special and helpful for me to get used to receiving help and pampering from others — which is so important for birthing women and new mothers to be able to accept."
"Having a baby shower is about the baby. Having a mother blessing is about the journey to becoming a mother," explains Ashley B. "It is refreshing and uplifting to be with a group of people who believe in you and are there to support you. The joy of a mother blessing lasts long after the ceremony is over."
A long line of mothers
Often a mother blessing will start with introductions, where each woman shares her maternal lineage, as in, "I am Sharon, daughter of Sandra, granddaughter of Eva, great granddaughter of Sarah and I am mother to Sophie and Hannah, grandmother of Lucas and Katie." The room fills with the realization that we all come from a long and powerful ancestry made up of strong women that continues from the past to the future.
Gentle touch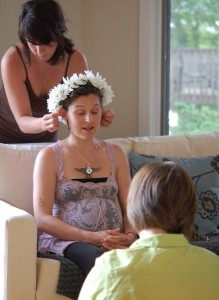 A warm bowl of fragrant water with flower petals and soothing herbs is prepared, and the mother's feet are gently soaked before receiving a comforting foot massage. Meanwhile, others may be massaging her hands with a moisturizing lotion and a relaxing scalp massage awaits as well. The mother feels relaxed, loved and calm as the celebration begins.
A circle of light
Women are asked to bring a candle, or sometimes the pregnant mother provides the candles for everyone. A larger candle is lit and each woman lights her own candle from the large candle and places it near, while sharing a wish for the mother. At the end of the event, each woman takes her candle home. When the mother's labor has begun, the women light their candle as a symbol of support for the work of labor and birth ahead.
Wishes to labor by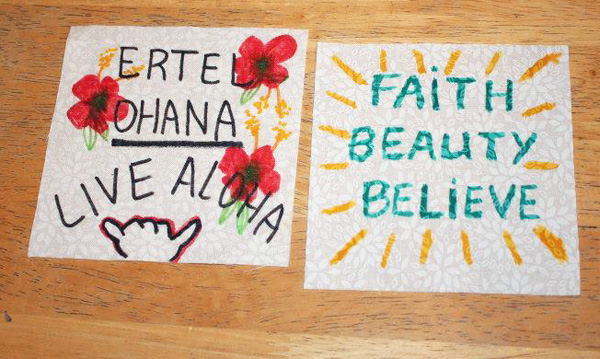 Often times there are materials to create a small flag, quilt square or pretty card with affirmations and words of encouragement. These are collected, put together and made into a book or hung around where the mother anticipates birthing. During her labor, the mother may look and read these wishes and thoughts and draw power and strength from the words while she labors.
"I read and reread the prayer flag they made me and I ran my fingers over my blessing necklace and meditated on the good thoughts my friends had for me," said Ashley.
Mother blessing jewelry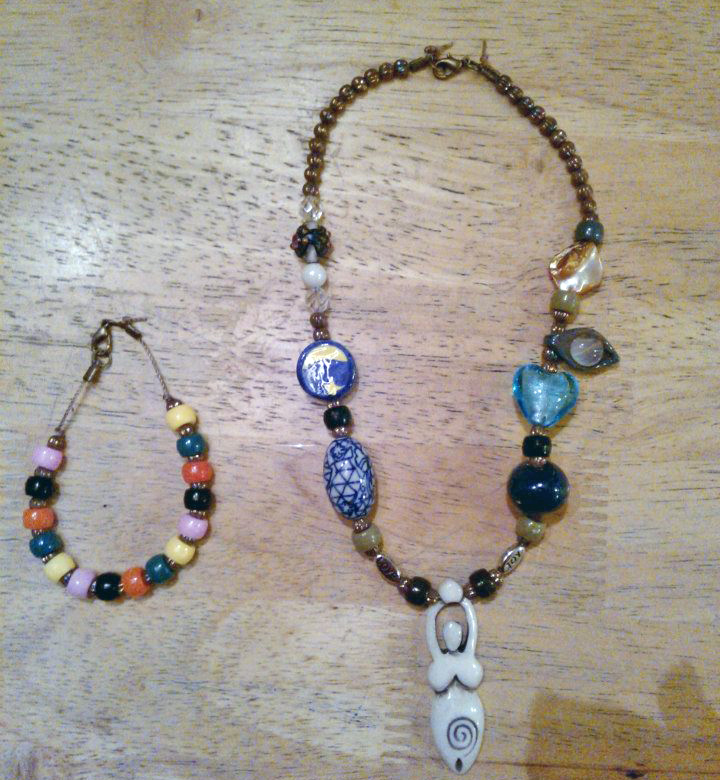 Each guest is asked to bring a bead to present to the mother. All these beads are strung together on a necklace or bracelet for the birthing mother to wear, hold or look at during her labor. The jewelry is another reminder of how loved she is and of how many women are walking beside her as she makes this wondrous journey.
"My necklace broke halfway through labor and I made my husband fix it because I needed it to be a part of my labor and birth," said Angela.
Ashley agrees that the jewelry is significant. "I can now look back and remember each friend and each blessing as I use the necklace as a meditation tool prior to this baby's birth," she says.
Yarn bracelets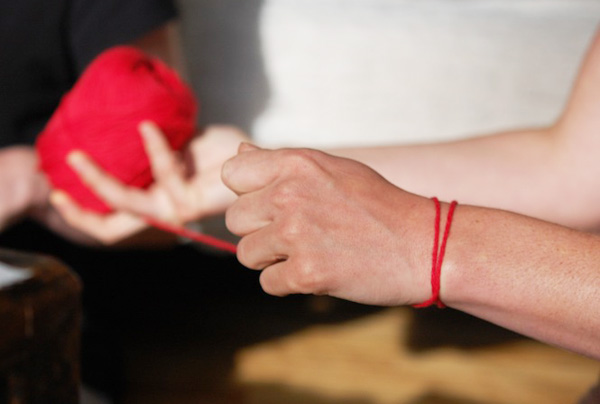 Guests stand in a circle and pass a ball of yarn. When a woman receives the ball, she shares wisdom or a wish for the mother. Before the yarn moves on, the woman wraps it loosely around her wrist. When the web is complete, everyone snips off the extra yarn, and ties a "bracelet" around their wrist. Custom says that when they have heard that the new baby has arrived, they remove the yarn bracelet and celebrate the safe arrival.
"The most memorable part of the mother blessing was looking around the room and seeing all of the women in my life who mean the most to me, who have walked next to me every step of the way of motherhood," said Angie.
A mother blessing can be both a fun and empowering celebration to help a woman on her journey to motherhood, for the first or subsequent baby. The love, affirmations, good wishes and pampering help carry the mother through the hard work of labor ahead. Consider a mother blessing to help you on your pregnancy and birth journey.
Top two photos and yarn bracelet photo by Jessica English, courtesy of Bring Birth Home. Other photos used with permission from © angela ertl.

More about pregnancy
Is it okay to fast while pregnant?
Baby shower jitters
Can I make love while I am pregnant?