Preeclampsia, Placenta Problems
A recent Swedish study found that moms who are hospitalized with severe morning sickness in the second trimester are at greater risk of other pregnancy complications.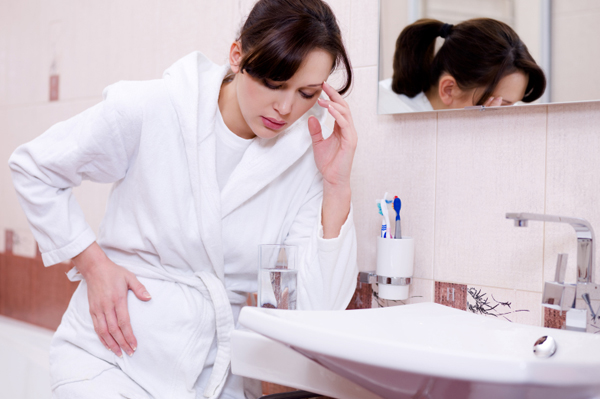 A new study out of Sweden has found that moms who experience -- and are hospitalized with -- hyperemesis gravidarum during the second trimester (from 12 to 21 weeks or pregnancy) are more likely to suffer from additional pregnancy complications.
The research
The study found that women who were hospitalized with severe morning sickness, also known as hyperemesis gravidarum (HG), between 12 and 21 weeks, are twice as likely to develop preeclampsia, 1.4 times more likely to give birth to a baby who is small for gestational age, and 3 times more likely to experience placental abruption -- an emergency that occurs when the placenta separates from its home on the uterine wall and can lead to serious complications.
How common is hospitalization?
Fortunately, morning sickness that is severe enough for hospitalization is rare, the study found. Out of over a million pregnant women that were studied, just 1.1 percent were ill enough for hospitalization. Study researcher Marie Bolin from Uppsala University's Department of Women's and Children's Health suggested that there be "an increased alertness and supervision during the pregnancy for development of any adverse outcomes" when HG is experienced during the second trimester.
HG is a problem in and of itself as it can lead to serious dehydration and malnutrition in the mom, and it can also be a factor in preterm birth.
What this means for you
Morning sickness is terrible. And morning sickness that doesn't magically dissipate after the first trimester can be not only terrible, but completely depressing. Some moms are unlucky enough to experience it their entire pregnancy.
Even though it is rare to require hospitalization during the second trimester, if it happens to you, you will likely be monitored a bit more carefully than a normal-risk mama. It doesn't mean these complications will occur for sure, so keep the faith that your care provider will look after you properly.
More on morning sickness
The morning sickness grocery list
Kate Middleton is pregnant, suffers from hyperemesis gravidarum
A nod to nausea