Get comfortable, it's a long ride!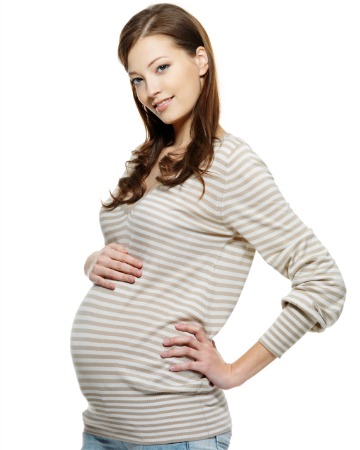 Staying comfy while pregnant
No matter what trimester you're in, if you're pregnant, you're most likely feeling uncomfortable in some aspect. These are some of my favorite things, and will be yours soon too.
These things will help keep you comfortable and happy throughout your pregnancy.
Maternity clothing
Try as you might, there is no way getting around this one. You will need to purchase maternity clothes; some women sooner than others. Here are a few essentials I've discovered:
Comfortable pants are so important as your belly starts protruding. B.D.A. mini's perfectly drape your body at every stage in your pregnancy, and they're made with super-soft bamboo, so you can dress them up or down.
Your expanding bustline is one perk of pregnancy. But it also means you'll need new bras. The Bandini bra doesn't have underwire, which can jab you in all the wrong places when pregnant, but still has padding to protect you from any embarrassing "nip-out" situations.
The Bellaband will come in handy when you go from the "When am I going to show?" stage to the "I can't button my pants!" stage overnight.
If you're staying active — and we don't have to tell you why you should — buy stretchy pants now before you're having to peel your skin-tight pants off like stripping paint after a sweaty workout.
Bath and body
You'll hear all kinds of conflicting reports. Some will say your genes determine your likelihood of developing stretch marks, yet others swear that they were able to avoid them with a magical cream. Well, if for no other reason than your belly may become incredible itchy (this is from your skin stretching, and something no one tells you about), moisturize several times a day. I really like Bio-Oil because it hydrates dry skin and soothes itchiness. It can be a little greasy so use it before bed. Another favorite is Avon's Skin So Soft Bath Oil Spray. It's not greasy, so it's perfect after a shower. Lastly, Palmer's Tummy Butter has the most pleasant scent and while it can be difficult to use because of its thickness, women swear by its ability to diminish the chance of stretch marks.
Between pee breaks, bad dreams and uncomfortable sleeping positions, you'll be waking up a lot throughout the night. Get yourself some shut-eye with the help of the Leachco Snoogle Total Body Pillow, designed to support your back and abdomen.
Resources
If you're not a reader, now is the time to get on board. From baby names to nursery décor, baby shower themes to registry items, there is a lot to plan! Here are valuable resources so you're not left in the dark.
Baby names are fun to read online because you can gather ideas from people who list invented names and family names. But, sometimes it's fun to curl up with a book. For these moments, The Complete Book of Baby Names is great because they list popular names by professions (famous architects, authors, etc.) and by country. Also, if you don't already have it, pick up What to Expect When You're Expecting — it will walk you through everything you need to know about pregnancy and more.
Use Pinterest for inspiration on baby announcement ideas, nursery decorating ideas, trendy baby clothes, baby shower themes and festive recipes.
Pampering
You're going to feel uneasy in your own skin as your stomach sticks out further than your breasts, you're carrying around extra weight, your back hurts, your hips are spreading… the list goes on. Now is the time to indulge.
Prenatal massage is a glorious way to reduce stress, swelling and back pain, relieve muscle tension and improve circulation. So, it's more than indulgent, it's almost medically necessary.
Put your feet up and get a pedicure — you deserve it. Soaking your tootsies in warm bubbly water and letting someone else work out the weight of the world on your shoulders will be welcome respite. Your feet — which you probably haven't seen in a while — will thank you.
More on maternity gear
When should I buy maternity clothes?
5 Ways to prepare for Baby on the cheap
Baby gear for active parents