Great Gifts For Pregnant Moms
Naturally, baby showers are focused on gifts for the baby -- who can resist those adorable, teeny tiny outfits! -- but let's not forget the mom-to-be at the next baby shower you attend -- surely she deserves some love too. Check out these great gifts for pregnant moms that will be sure to brighten those last tough weeks of pregnancy.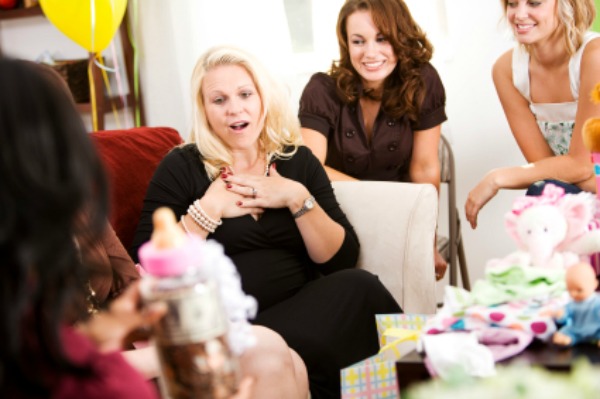 Send her to the spa
You know she can't reach her toes anymore and if you've ever been pregnant yourself, you know all about those third trimester aches and pains. Probably the number one gift you can give a mom at her baby shower is a gift certificate for some pampering time -- get something small and sweet for the little one who is about to arrive and then spend your money on mama. You don't have to get her an entire day at the spa -- even just a pedicure gift certificate will show her some love.
New mom survival kit
For first-time moms, who have no idea what actually happens in at the hospital, let alone those first weeks of motherhood, the best gift from a veteran mom is a survival kit. Stock it with those things she'll really need at the hospital and when she gets home -- the biggest sanitary pads you can find, lip balm to fight the air conditioning at the hospital, a new, easy-to-read book (because new babies are cute, but also kind of boring), cheap slippers that she can wear at the hospital and anything else you can think of that nobody ever told you you'd need. Trust us -- she'll thank you for it later.
Distraction-worthy reading material
The last few weeks of pregnancy are filled with waiting -- for her water to break, to go into labor, for the pitocin to kick in -- all that waiting can drive your pregnant friend insane. To fight the time, stock her up with every single trashy tabloid magazine that you can find -- and include a note saying you'll continue to drop more on her doorstep as long as she's pregnant. Even moms who may typically turn up their well-read noses at the latest celebrity rags will be glad to read up on the latest Hollywood hook-ups and divorces to keep their minds off being pregnant!
Sweeten up those swollen feet
There's something about swollen feet that every pregnant mom dreads -- it's as if losing those skinny ankles is saying goodbye to the last stronghold on our otherwise bloated, pregnant bodies and really, it's enough to take any mom over the edge. What's better for swollen feet than a cute new pair of shoes? Pick her up something that she can easily slip on and off and that will help her survive looking in her closet at all the shoes she can't wear right now.
Be a personal nesting assistant
Nesting -- you know she's doing it in full swing these last few weeks of her pregnancy. There's likely a list somewhere of things that she absolutely must get done before baby arrives. For her baby shower gift, offer to spend the afternoon helping her get some of those things done -- scrub the baseboards in her laundry room, organize her underwear drawer by color, iron all the curtains in the house -- whatever she needs to feel ready and get that nesting bug out.
More on baby showers
Creative baby shower themes
Inside Kate Hudson's star-studded baby shower
How to throw a baby shower for a third-time mom