Help Curb Stress For Fathers-To-Be
Although the stress and responsibilities of a new baby can be overwhelming, paying attention to your partner's needs as a father-to-be is also a necessity. From being worried about your relationship to concerns about money, new dad apprehensions are often overlooked. As you juggle your role as a new mom or mother-to-be, find out how to deal with new dad concerns.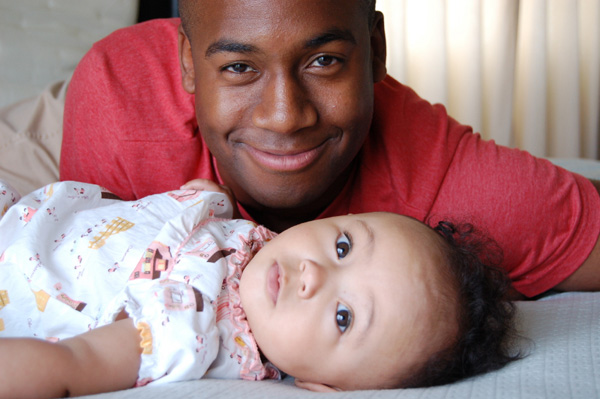 Will parenting change our relationship?
"Brand new dads often welcome the birth of their child with a combination of joy and bone-chilling apprehension," explains Dr. James Sutton, Psychologist, www.DocSpeak.com. "Marriage changes 'Me' to 'We,' and a new baby changes 'We' to 'Three.' It takes time for a new dad to make that shift and become comfortable with the changes and responsibilities that are part of all a baby brings." Despite your exhaustion and the influx of hormones, ensure that your partner doesn't feel like a third wheel by making time for just the two of you so you don't lose your connection as a couple.
How will I know my baby's needs?
Give the father-to-be some words of encouragement and explain to him that you're both learning as you go. When given the opportunity to figure it out, your guy will soon get the hang of this new daddy thing and find his concerns laid to rest.
Is this the end of our sex life?
Even when hitting the sheets takes on a whole new meaning for you as a new mom, you may be surprised how quickly you can get in the mood when your partner pitches in with some housework or parenting duties. Tell him you'll meet him in the boudoir after he vacuums the downstairs or washes up the bottles -- it's a win-win situation for you both!
What will become of my social life?
His free swinging bachelor days may be a thing of the past, but squashing his -- and your -- social life isn't your only option when baby makes three. Set up a schedule where you take turns heading out with your friends on alternate nights to help relieve new father stress and new mommy anxiety.
Will we have enough money to raise a baby?
Most fathers-to-be are infamous for suffering silently when it comes to money stress, so sit down together and rework your budget long before your due date arrives. Look for creative ways to save money, like adjusting your work schedule to save on daycare expenses and watch your partner's concerns dwindle along with your forthcoming costs.
To strengthen the connection you and your partner have before baby makes three, consider whisking the dad-to-be away on a babymoon before your bundle of joy arrives. The time alone will help you figure out how to help him deal with new daddy stress while giving you a chance to recharge before you dive into your new role as mommy!
Get more newborn baby tips
How to get housework done with a newborn baby
6 Ways to juggle your job and your new baby
7 Newborn dangers in your home