A Study By Lancet Showed That Pregnant Women Who Gained Too Much Weight During Pregnancy Were More Likely To Have A High Birth Weight Baby Who Is At A Higher Risk To Be Overweight As An Adult. Find Out How Much Weight You Should Gain During Pregnanc
A study by Lancet showed that pregnant women who gained too much weight during pregnancy were more likely to have a high birth weight baby who is at a higher risk to be overweight as an adult. Find out how much weight you should gain during pregnancy and how you can keep your pregnancy weigh gain in check.
Kim Grundy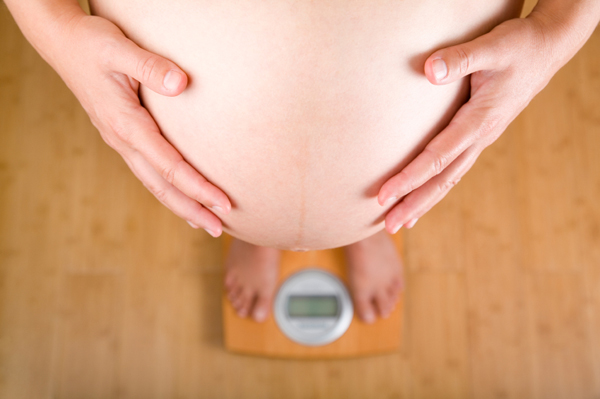 The Lancet study compared women who gained a healthy amount of weight during pregnancy (18-22 pounds for normal weight women) to women who gained 44 -49 pounds during pregnancy and found that the group that gained more weight were 1.7 times more likely to have a high-birth weight baby. Women who gained more than 53 pounds were 2.3 times likely to have a high birth weight baby.
"Since high birth weight, in turn, increases risk for obesity and diseases such as cancer and asthma later in life, these findings have important implications to general public health," says co-author David Ludwig, MD, PhD.
How much should you gain during pregnancy?
The American Pregnancy Association recommends the following guidelines for pregnancy weight gain, but please talk to you doctor for your specific recommendations:
- 25-37 pounds if at healthy weight pre-pregnancy
- 28-40 pounds if underweight pre-pregnancy
- 15-25 pounds if overweight pre-pregnancy
How many extra calories needed during pregnancy?
Many pregnant moms are unsure of how many extra calories they should eat and are under the mistaken impression they should "eat for two."
"Unfortunately, some women use this time to eat uncontrollably, although there is only a need for 300 additional calories daily" says nutrition expert Jackie Keller, author of best-selling book Body After Baby. "Most of these additional calories should come in the form of additional calcium and fiber - so 2 additional servings of fat free or low fat dairy will suffice. "
How to keep pregnancy weight in check
Keller, who has provided nutritional expertise to Reese Witherspoon and Angelina Jolie,  explains how to figure out your calorie need during pregnancy. "Basically, the number of calories you should be eating is a function of your height, weight and activity level. There is not one set level, but the average American woman, who is 5'4" tall and weighs a healthy 120-130 lbs., has a normal metabolism and exercises 5 times/week will need an average of 1600-1800 calories, plus 300 for the pregnancy."
Exercise is also an important part of keeping your pregnancy weight gain in check. "Get an exercise routine developed, with yoga and meditation incorporated.  This will keep you in a good mood, with high energy levels and help to minimize excess weight gain during pregnancy," says health and wellness coach Lisa Ryan.
More pregnancy health and wellness:
-- 10 Foods every pregnant woman should eat
- 10 Foods every pregnant woman should avoid