Much To The Dismay Of Many Pregnant Women, A New Study Came Out Saying There Were Currently No Safe And Completely Effective Treatments For Pregnancy Morning Sickness. If You Are In The Midst Of The Pregnancy-Induced Nausea And Vomiting, What Should
Much to the dismay of many pregnant women, a new study came out saying there are currently no safe and completely effective treatments for pregnancy morning sickness. If you are in the midst of the pregnancy-induced nausea and vomiting, what should you do? The experts and real moms weigh in.
Kim Grundy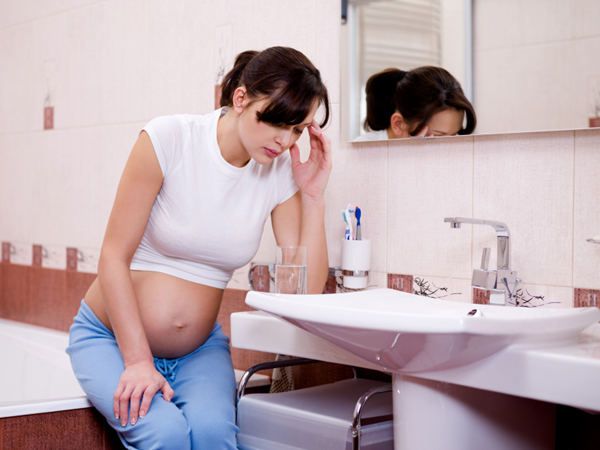 The Cochrane Database of Systematic Reviews published a systematic review of all evidence on morning sickness, and found that there was little pregnancy morning sickness relief with antiemetic (anti-vomiting) drugs, ginger (study said can cause heartburn), vitamin B6, antihistamines and acupuncture. They did report "some improvement" with acustimulation, which is electrical stimulation of acupuncture points.
When can you expect relief?
It is reported that up to 90% of all women experience pregnancy morning sickness, and most of it does improve as your pregnancy progresses.   For most women, the nausea and vomiting can happen at anytime throughout out the day (not just in the morning) and usually improves markedly once you hit the second trimester.
Morning sickness relief tips
Before you resort to suffering through months of morning sickness, check out these tips from experts and real moms. Even though these treatments may not have proven effective for all women, they are safe and  they might at least relieve, even if they don't completely alleviate, your pregnancy morning sickness.
1. Small, protein-fueled snacks: " I'm a new mom and author of a book called The Bra Book.  I wanted to pass along that the best morning sickness tip I received is to always keep some sort of protein on hand - like granola bars - either by your bed, or in your purse.  I honestly just kept nibbling - and I never felt sick. "-Style expert/author Jene Luciani
2. Acupuncture:  "Acupuncture can reduce nausea significantly improving the quality of your life and health during your pregnancy."  - Kristen Burris, L.Ac., M.S.T.O.M.
3. Sip Ginger Tea: "Slice ginger root as you would a carrot into three slivers; steep in warm water and sip throughout the day.  Add honey if you need it sweetened.  Ginger is as effective as medications for nausea without dangerous side-effects for you or your baby." - Burris
4. Eat in the middle of the night: "Stave off nausea by keeping crackers or protein bars on your night stand.  When you are up to go to the bathroom in the middle of the night take a couple of bites." -Burris
5.   Eat first thing in the morning: "Be sure to eat something before even allowing your feet to touch the ground in the morning.  Often the body will fight for food and unfortunately the signal you need more nourishing food is intense nausea." -Burris
6. Simple, yet effective: "My morning sickness tip? Chewing Gum! It helped me ease the nausea immensely!" -Jennifer Bourgoyne Founder/Designer Czela Bellies CesareanWear 

7. Severe morning sickness: "My heart goes out to women who suffer hyperemesis [severe morning sickness]. It's debilitating and so many times I was treated like a big baby who couldn't cope with pregnancy. This was the most painful aspect of all.  The cocktail consisting of B12, pepcid AC and Reglan (cheap and by prescription) did help me. My pregnancies (all three) were devastating in terms of sickness and weight loss. Also, hydration therapy helped. I reported to ER a couples times a week for fluids. Crackers did not help - and every time someone suggested I use them as a remedy I wanted to poke their outs out." - Jennifer James, APR
As always, check with your doctor before taking any medicines when pregnant. Read more on hyperemesis gravidarum here.
8. Time your vitamins right: Take your prenatal vitamins just before you go to bed. They
make a lot of women nauseous and this helps you sleep through it. Best Products: Psi Bands and Preggie Pops! -  Jennifer Marshall of HappyMamaGifts.com, mom of 2

More morning sickness tips:
-- Is morning sickness a good thing?
-- A morning sickness good guide