10 Non-Alcoholic Mocktail Drinks For Pregnant Moms
Just because you are breastfeeding or pregnant doesn't mean that you have to miss out on some fun drinks when the weather turns warm. Read on to discover 10 summer non-alcoholic mocktails beyond the Shirley Temple that are worthy of a little paper umbrella, even without the alcohol.
Michelle Maffei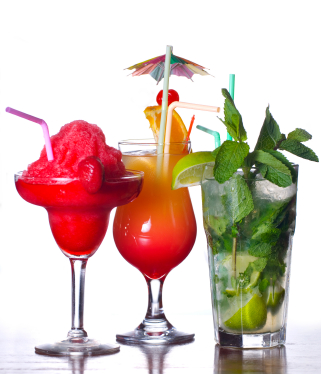 Mock Champagne
2 2-liter bottles of ginger ale
46 ounces of canned pineapple juice
64 ounces of white grape juice
Combine in a large punch bowl and garnish with frozen ice ring, if desired. Be sure to serve in champagne flutes! (40 servings)
Afterglow
1 part Grenadine
4 parts Orange Juice
4 Parts Pineapple juice
Mix all ingredients and serve over ice. Garnish with an orange round and pineapple chunk. (1 serving)
Summer Cooler
2 cups cranberry juice
1 cup orange juice
1 cup pineapple juice
1 4-ounce jar maraschino cherries
2 tablespoons lemon juice
12 ounces of ginger ale
Combine all ingredients except ginger ale into large pitcher. Before serving, add ginger ale and gently stir. Garnish glasses with cherries and orange rounds. (8 servings)
Virgin Strawberry Daiquiris
2 large strawberries with stems removed
1/4 club white sugar
1 tablespoon lemon juice
3/4 cup chilled lemon-lime soda
4 ice cubes
Combine all ingredients in a blender and blend until smooth. Pour into a daiquiri glass and serve. Don't forget the strawberry for garnish and the paper umbrella! (1 serving)
Virgin Mojito
1 teaspoons sugar
1/2 of a lime, cut into pieces
6 mint leaves
1/2 ounce of simple syrup
Ice
Club soda
Crush and mix lime slices, mint, and sugar with a muddler or the back of a spoon in a 12 ounce drinking glass. Add ice to fill cup until it is about ¾ full. Add simple syrup and top off with club soda and stir. Raw sugar cane makes a fun garnish if you can get your hands on some! (1 12-ounce serving)
 
Blue Hawaii
5 ounce blue fruit punch drink (like Kool Aid or Hawaiian Punch)
1 ounce coconut milk
1 ounce pineapple juice
1 ounce ginger ale
Combine all ingredients into a shaker and strain into a daiquiri glass or halfed coconut. Garnish with pineapple slice and a cherry. Don't forget the straw!
 
Lucky Driver
1 part coconut concentrate
2 parts fresh squeezed lemon juice
5 parts pineapple juice  
5 parts orange juice
5 parts grapefruit juice
15 parts sugar syrup
 
Add all ingredients to a blender or a shaker. Pour into highball glass with 203 ice cubes. Garnish with orange slice and lemon slice. (1 serving)
Black and Blue Berries
1 cup blueberries and blackberries
1 cup soda water  
2 tablespoons of honey or sugar
1 teaspoon lemon juice
Blend all ingredients and blend on medium. Pour into a highball glass and garnish with berries. (12-ounce serving)
Pomegranate Mocktini
1/2 cup lemonade
1 ounce Italian pomegranate syrup
2 teaspoons lime juice
Shake ingredients in a cocktail shaker filled half way with ice. Strain into two chilled martini glasses and serve.
Pussy Foot
1 part grenadine syrup
4 parts pineapple juice  
4 parts orange juice
4 parts grapefruit juice
Combine all ingredients in a shaker or blender briefly. Strain into a highball glass and garnish with fresh fruit and a straw. (1 serving)
Whipping up a fun, refreshing drink can be as easy as adding your favorite non-alcoholic bubbles to your juice of choice, or combining more than once juice with a sweet syrup and some ice. And, be sure to use a fun drinking glass! Whether you follow these recipes here or do your own creative bartending, there's no doubt that you'll be reaching for a refill long after your baby joins the outside world and you're no longer breastfeeding!
Tips on staying healthy during pregnancy and breastfeeding:
-- Myths, medications and martinis: What are the do's and don'ts of nursing
-- How much alcohol is safe to drink during pregnancy?
-- Sick of water? 5 Pregnancy safe drink options