Dad'S Best Gift Of Is His New Baby. Honoring A New Dad On Father'S Day Is Just Icing On The Cake. These Delightful Gifts Will Make This First Father'S Day Extra-Special For That Important Man In Your Life.
Even though Dad's best gift is his new baby, honoring a new dad on Father's Day is just icing on the cake. These delightful and unique gifts will make this first Father's Day extra-special for that important man in your life.
Mary Fetzer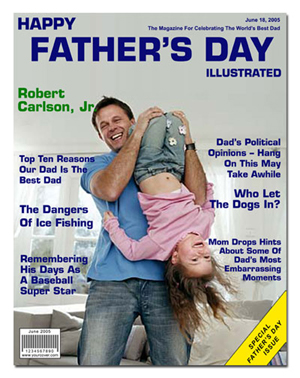 1. Dad on a magazine cover
Dad is a V.I.P! Help him flaunt his celebrity status with his own magazine cover! YourCover.com helps you create a Father's Day gift that puts Dad front and center as the star. Not only are the photos personalized, but the headlines are, too. What a masterpiece! The new dad will love it!
 
2. The Goodfather CD
Know a first-time father? Make him an offer he can't refuse. The Goodfather interactive CD provides hundreds of helpful hints for new dads. The Goodfather is designed for a man's point of view, and the content is edited by licensed nurse midwives to ensure that each topic is medically sound.
The Goodfather is compatible with Windows and Macintosh and includes a baby naming book and baby card announcement maker. 
 
3. Dad's Day Off Wine
"Dad's Day Off" is not just a special day in his honor… it's also a splendid wine! Dad's Day Off is an inexpensive tasty red wine made from Pinot Noir grapes grown in Puglia, Italy. The wine is a well-balanced mix of smooth flavors and is imported and owned by Selective Wine Estates, Inc. in East Hanover, NJ. The suggested retail price is just $9.99!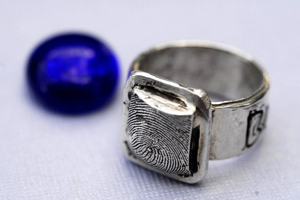 4. The fingerprint ring
Receiving jewelry as a gift is not a privilege reserved just for women. Men appreciate thoughtful pieces as well. And what could be more thoughtful than a ring bearing your baby's fingerprint?
The Fingerprint Ring by Etsy takes a fingerprint and puts it on a beautiful ring, casting it as one piece to create a spectacular piece of sterling silver jewelry. A name can be added to the band – not an engraving, rather a hand written name that's added before casting.
 
5. Beef Jerky Bouquet
Mom loves a dozen long-stemmed roses, but Dad will love a dozen long-stemmed steak strips. The Beef Jerky Bouquet from Gary West Smoked Meats comes decoratively wrapped and delivered in a traditional flower box. Choose from traditional, Cajun, teriyaki and black pepper jerky – or mix 'em up! Buy it online for $35… ground shipping is free!
 
6. Boot Camp for New Dads
How-to books can be great reference tools. But when it comes to learning the ropes of new fatherhood, hands-on advice is better. Boot Camp for New Dads (BCND) is a unique father-to-father, community-based workshop that inspires and equips men to transform into wonderful fathers.
This "nursery in a locker room" has graduated over 200,000 men and is offered in 44 states and on U.S. military bases. Visit the Boot Camp for New Dads website to sign up your man.  
7. Dad picture cookies
Submit your favorite photo of Dad and his new bundle of joy to EdibleGiftsPlus.com to create a picture-perfect Father's Day treat! Dad's edible image is applied to a Half Graham cookie dipped in white Belgian chocolate and framed with colorful nonpareils. The cookies are just $2.50 each.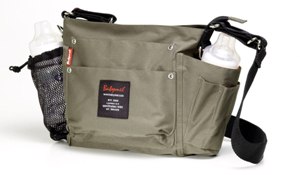 8. The Tool Pouch diaper bag
Give Dad handy access to the fathering tools he needs. The Tool Pouch by Babymel is perfect for on-the-go dads. The compact Tool Pouch includes five outer pockets for bottles, wipes, and cell phone, plus an roomy internal compartment for diapers, toys and other essentials. The Tool Pouch, $40, includes a padded changing pad and adjustable shoulder strap with stroller attachment and is available in red, black and army tan.
9. Baby Hand & Foot Imprint Mouse Pad
 When Dad has to pull himself away from his pride & joy to check the computer, he'll appreciate this precious reminder of his tiny child. Created by Lasting Impressions, the Baby Hand & Foot Imprint Mousemat is easy to create and boasts your baby's hand and foot prints. Order the mousemat for $16.45 at Zazzle.com. 
 
10. The gift of generosity
As the new dad counts his blessings on Father's Day, help him share the joy with those less fortunate. At World Vision Gift Catalog, Father's Day represents Dad as the "guide, motivator and provider in a child's life."
Instead of investing in a tie or useless trinket, purchase a life-sustaining gift in Dad's name for poverty-stricken families worldwide. A gift of $77 gives a new mom in somewhere in the world the supplies she needs to care for her newborn. The New Mother and Baby Kit includes a bassinet, diapers, blanket, container for clean water, soap and infant care training.
 
More Father's Day gift ideas:
- Activities to make Father's Day special
- Top 10 personalized gifts for dad
- Beyond the tie: Unique gifts for dad