Looking For The Perfect Maternity Dress? These Dresses Will Fit The Bill For Every Budget And Occasion. We Know It'S Both Hard And Exciting To See Your Body Transform From Your Familiar Shape To An Obviously Pregnant Lady. Beautiful Maternity Dress
Looking for the perfect maternity dress? These dresses will fit the bill for every budget and occasion. We know it's both hard and exciting to see your body transform from your familiar shape to an obviously pregnant lady. Check out our pick of maternity dresses perfect for your baby shower, work look, casual weekends or date night.
Sarah Caron
Whether you are searching for the perfect baby shower dress, work outfit, everyday dress or a hot little number for a night out with your man, we have you covered in our pick of the top 15 maternity dresses.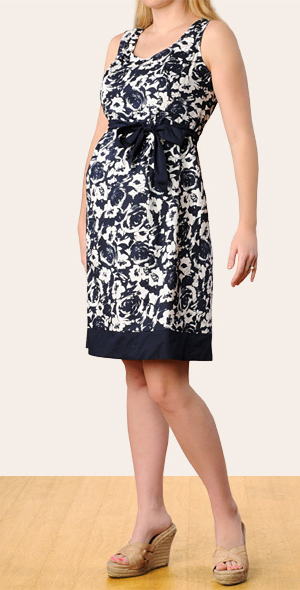 5 maternity dresses under $30
On a budget? These dresses are all adorable but they won't cost you a bundle.
Sleeveless Empire Waist Maternity Dress: (Motherhood Maternity, $29.98, pictured ) – Sweet and simple is the best way to describe this lovely navy floral dress. The sweet bow at the empire waistline is a nice detail on this dress, which is made from a cotton/spandex poplin. Wear it with flats and a cardi to the office… or just toss on sandals for a cute casual look.
Liz Lange® for Target® Maternity Pleated Short Sleeve Dress: (Target, $24.99) – Hello, hot stuff! Forget feeling like a pregnant mom-to-be, this dress with awesome pleating on the bodice screams fashion-icon. This one is also perfect for the office.
Maternity Tiered Jersey Maxi Dresses: (Old Navy, $29.50) – With a subtle V-neck and a sweet cut with a ruffle at the bottom, this dress is as adorable as a pretty mom-to-be. This maxi dress comes in a chic black that's perfect for wearing to play dates. Or there is an adorable multicolored version of this dress that is white with big pink and black flowers on it – perfect for a baby shower.
Liz Lange® for Target® Maternity Floral Print Twist V-Neck Dress: (Target, $24.99) – The big, bold, ebony, white and red pattern on this dress will enhance your natural pregnancy glow. This bargain-priced dress is perfect for a night out with your significant other.
Maternity Jersey V-Neck Maxi Dresses: (Old Navy, $29.50) – The cross-front V-neck of this maxi dress is sophisticated while also showing off one of the glorious side effects of pregnancy: bigger boobs. The Cocoa Powder color is our favorite for nights out, luncheons or even a traditional baby shower.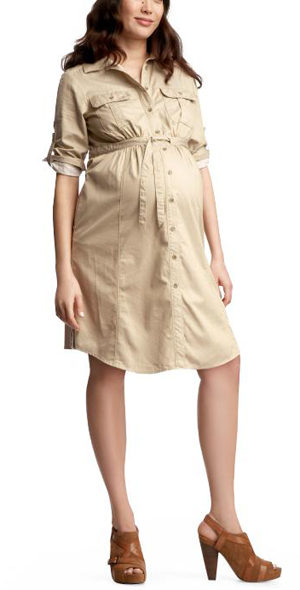 5 maternity dresses under $50
Have a little more budge in your budget? Whether you need something for a special event or the office, these dresses fit the bill for every situation. Check 'em out!
Khaki shirt dress: (Gap.com, pictured, on sale for $34.99 (originally priced at $69.50)) – This classic shirt dress hits just above the knee and is perfect for day, work  or evening. Wear it to the office with some cute flats or wedge heels or pair it with brown boots for a hip look. This modern, military-inspired look is hot this season!
Liz Lange® for Target® Maternity Strapless Chiffon Dress: (Target, $39.99) – Need a dress for a special event? This sophisticated number is perfect. It's sexy and feminine while not being overtly maternity. We especially love the sheer bit at the bottom.
Short Sleeve Empire Waist Maternity Dress: (Motherhood Maternity, $39.98) – This black dress with bits of intricate white design is sleek and sexy, but totally office appropriate. Better yet, the flattering faux-wrap cut will look great on your developing baby bulge.
Everly Grey Women's 'Jane' Maternity Dress: (Overstock.com, $46.99) – Who says that pregnant women can't be fashion forward? This haute number is beautiful with one shoulder strap and a fabulous bow accent. Are you heading out for a date night or hitting the red carpet? Let others guess that one.
Short Sleeve Smocked Maternity Dress: (A Pea in the Pod, $39.99) – How sweet are those fluttery sleeves on this soft gray dress? Perfect for daytime (heading to preschool pickup, doing lunch…), this comfortable jersey dress is easy to throw on and go. And the sale price makes it a total bargain.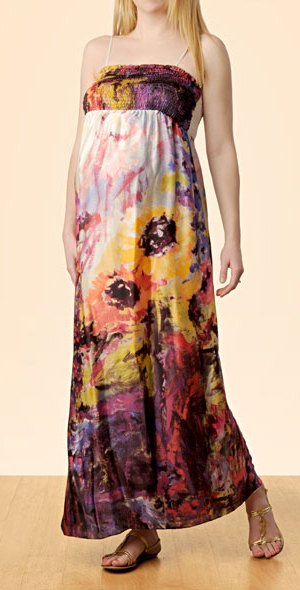 5 maternity dresses $50 and up
You want a nice dress. Period. It's style – not price – that simply matters most. These are perfect for whatever you need it for.
Floral Silky Smocked Dress: (Gap, $69.50) – The smocking along the V-neck and empire waist of this sexy maternity dress adds a touch of sweetness. Sure, you could wear it to the office, but it's really fabulous for baby showers, weddings or whatever else you might need to go to.
Maternity Empire V-Neck Knit Dress: (Loft, $54.50) – The femininity of this maternity dress will make you smile and rejoice in your impending motherhood. With a little ruching and a bit of ruffle trim, this is perfect for trips to the park or meeting up with friends. Check out the Deep Rose color – it's a great shade for this year.
Maternity Sophie Dress by Nom: (Loft, $98) – Need a power dress for an important meeting? This is it. The bit of ruching won't have you feeling any bit matronly or uncomfortable but with power heels and chunky jewelry, this is totally office-ready. We love the Medium Melange Grey shade.
Spaghetti Strap Smocked Maternity Dress: (A Pea in the Pod, $148.00) – Stand out from the crowd in this abstract floral number. The straight-cut top and shimmy silk fabric is perfect for an evening out … or that "surprise" baby shower that you know all about.
Olian Maternity Kora Flutter Sleeve Dress: (Zappos.com, $108.00) – The bell sleeves on this stylish dress are fabulous. Whether you need it for a weekend outing or the office, this is perfect for any occasion for the sophisticated mom-to-be.
More tips on maternity fashion: