Spotting Celebrity Baby Bumps Has Become One Of Our Favorite Pastimes. Long Gone Are The Days When Famous Women Hid Their Growing Tummies. Today'S Celeb Moms-To-Be Flaunt Their Pregnant Bellies Like Fashionistas.
Spotting celebrity baby bumps has become one of our favorite pastimes. Long gone are the days when famous women hid their growing tummies. Today's celeb moms-to-be flaunt their pregnant bellies like fashionistas.
Mary Fetzer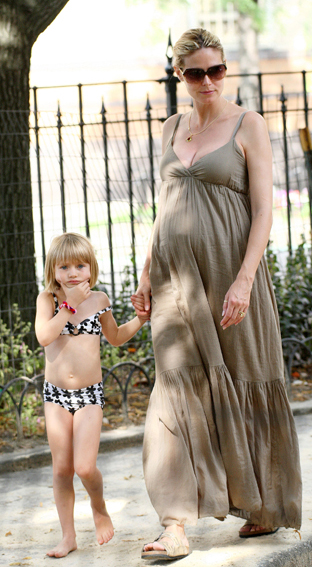 Frumpy maternity wear is history. Take your cues from these stylish mamas and show off that baby bump!
Try an empire-waist maxi dress
Jessica Alba, Heidi Klum (pictured, right) and Adriana Lima are just a few of the expectant moms who've embraced the fabulous maxi dress. By cinching under the bust, empire waist clothing draws attention up to the smallest part of your pregnant frame. The rest of the dress flows beautifully over the stomach to create a long and lean look. And it's super comfortable, too! Target sells a delightful array of maternity maxi dresses... for under $40!
Choose comfy fabrics
Halle Berry and Tiffani Thiessen understand the benefits of breathable jersey maternity dresses and leggings. The material moves and stretches without looking sloppy, so you'll look chic and casual while feeling completely at ease. Check out the edgy jersey tees and leggings at Unbuttoned Contemporary Maternity.
Flaunt color
Adorable Amy Adams doesn't hide behind black maternity wear. Following in the steps of Christina Aguilera, Amy struts the red carpet in bright reds, blues, and greens that give her that unmistakable I-can't-wait-to-meet-my-baby glow! Ann Taylor LOFT carries a rainbow of trendy maternity tops and dresses.
Go Boho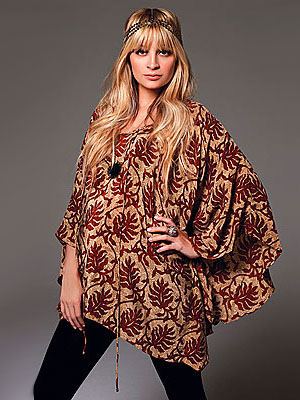 Nicole Richie, pictured right, defines bohemian chic. Wearing smocked dresses and flutter-sleeve blouses, Nicole carried Harlow and Sparrow in true boho style. Patterned bohemian clothing – paired with big accessories like scarves, earrings and sunglasses – is easy to wear and super-stylish, too. Nicole now designs her own line of trendy mama duds. Shop Nicole Richie for A Pea in the Pod for her newest styles.
Maternity jeans are cool
There was a time when the dreaded phrase "maternity jeans" brought images of hideously high-waisted denims that flattered no one. But catch a glimpse of Camilla Alves or Gisele Bundchen in a pair of skinny maternity jeans, and you'll see just how far fashion as come. A flowy top and skinny maternity jeans look amazing with a pair of patterned ballerina flats or super-sexy heels. For those expecting moms who love designer maternity jeans, check out 7 For All Mankind, AG Jeans and Citizens of Humanity and more at A Pea in the Pod. For a budget-friendly option, JC Penney has a great pair for around $20.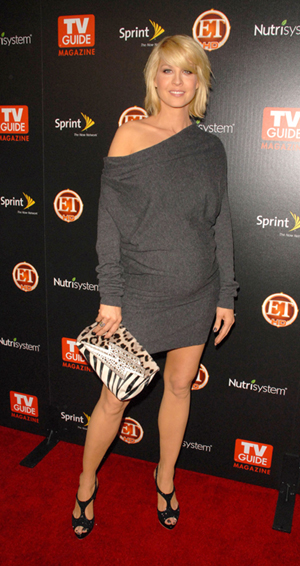 Fitted is fab
When Project Runway host Heidi Klum was pregnant, her maternity fashions were every bit as exciting as the designers' creations. Heidi sported slim tunics, skinny pants and fitted dresses. Shop the Loved by Heidi Klum line at Motherhood Maternity for mix-and-match styles to flatter every pregnant figure.
Focus on your favorite feature
Gwen Stefani is known for her gorgeous red lips. (Try Stila Pomegranate Lip and Cheek Stain at Ulta.) Pregnant Jenna Elfman, pictured right,  has legs to die for. (Check out the cute mini dresses at Babies n Bellies.) Even at nine months, these celebs understood the important of playing up their signature features. Focus on your best attribute – hair, eyes, designer shoes! – so you look your best even when you're not really feeling it.
While it's great to imitate our favorite celebrity looks, it's also important to be comfortable in your own skin. Accept your changing body and don't lose sight of the fact that it serves such a wonderful and important purpose!
For more pictures of your favorite pregnancy celebrities, check out our Pregnant Celebrity Photo Gallery.
More on maternity fashion:
-How to save money on trendy maternity clothes
-How to look pregnant not pudgy