It'S A Common Belief That If A Woman Has Had One Cesarean Delivery, Subsequent Deliveries Must Also Happen By C-Section. New Research Is Attempting To Prove Otherwise, Giving Moms Hope For A Future Vaginal Birth. Find Out What Ob/Gyns And Mothers A
It's a common belief that if a woman has had one cesarean delivery, subsequent deliveries must also happen by cesarean or c-section. New research is attempting to prove otherwise, giving moms hope for a future vaginal birth. Here what experts and real moms have to say about the risks and benefits of a vaginal birth after cesarean or VBAC.
Elizabeth Weiss McGolerick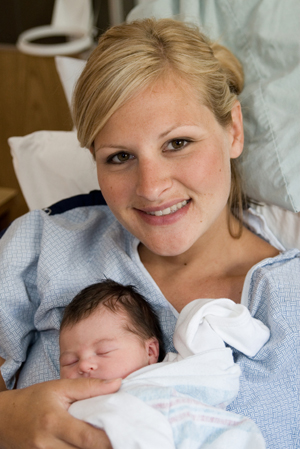 Lynnsey Urbaitel is grateful for her vaginal birth after Cesarean (VBAC). "It was one of the most rewarding experiences of my life. It healed a lot of hurt that came with an emergency C-section. It allowed me to be more in tune with my body through labor and with my child when he was born," she says. "I believe all mothers should have the choice to consider this option, because it is very possible under proper conditions."
While studies are saying that moms who have undergone C-sections are in the clear for a vaginal delivery, there are still risks involved. The pros and cons of a VBAC vary widely.
Risks and benefits of a VBAC
A recent study, led by Dr. Alison G. Cahill of the Washington University School of Medicine, reports that women who attempt a vaginal birth after multiple C-sections may not have a greater risk of complications than women who attempt a vaginal birth after having had only one prior C-section.
However, Randy Fink, M.D., FACOG, medical director of the Miami Center of Excellence for Obstetrics and Gynecology, lists the numerous risks for a woman attempting a vaginal birth after one or more C-sections: blood clot, transfusion, emergency hysterectomy, uterine infection, maternal death, brain-damaged baby, fetal death and stillbirth.
"The greatest risk is uterine rupture," Dr. Fink says. "The uterus is a muscle, just like one's bicep," and if you injure your bicep, you're not going to be able to lift as much after the injury. "The uterus works similarly. A C-section forms a scar on the uterine muscle. That muscle is built for one purpose: to contract and 'squeeze a baby out.' During labor with a scarred uterus from a previous C-section, there is risk that the scar, a weaker area of muscle, may break open. This can be catastrophic for both mom and baby."
 
Fink goes on to explain that, "When the trial of labor fails and she requires a repeat C-section, her risk of adverse outcomes is higher. Babies are worse off, as are the moms. And the problem is that one never knows who will be successful and who won't."
Harry M. McFarling, III, M.D., an ob/gyn affiliated with Atlanta's Piedmont Hospital, adds, "The consensus is that women with a previous C-section that required a vertical incision in the uterus are not candidates for trial of labor because of the significant increase of uterine incision rupture during labor."
Making the right choice
Even knowing these risks, many women strongly desire to have a VBAC. Vanessa van der Have is a mother of three who has had two successful VBACs. "It was emotionally difficult for me, being 24 and healthy, to have gone nine months and done the childbirth classes only to have an emergency C-section. I felt robbed of the birth experience. It was actually the main source of my postpartum blues. I wanted to avoid that the second and third time around."
In Vanessa's case, her doctor watched the progression of her pregnancy to see how Vanessa's body responded in the last few weeks. For her, the outcome was wonderful.
Fink says, "There is one very important fact to understand about trial of labor after C-section. When it is successful, it is great. A vaginal delivery results in less pain, a faster recover and the potential for easier bonding between mother and baby," says Fink. "There is usually less hospital time, a lower rate of abdominal wound complications and lower costs." 
 
McFarling adds, "The decisions made concerning C-sections are practical and based on the many factors to be considered during a woman's pregnancy and course of labor. A mother with another child at home, for instance, may choose the predictability of a scheduled C-section."
In his practice, McFarling says, "I don't encourage or discourage trials of labor after C-sections. I walk patients through the process and explain all the risks, benefits and options available. But ultimately, the mother accepts the risk associated with the method of delivery she chooses," says McFarling.
Unfortunately, Fink notes that even if a patient accepts the possibility of a negative outcome, it is often the doctor who faces blame should a complication arise. For that reason, many mothers may encounter difficulty finding an ob/gyn willing to agree with VBAC. Often, in order to avoid liability, a practice as a whole does not offer VBACs, which is the case with Fink. "We seem to be doomed either way; we are seen as anti-natural medical beasts for wanting to perform a C-section, and are thrown to the wolves as incompetent for not performing a C-section [in the case of an adverse outcome]. So, many doctors choose to try to decrease their risk exposure by avoiding this area of high potential liability and blame."
Though McFarling does work with mothers who are interested in VBAC, it comes down to a case-by-case basis. "We need to know why she had the first C-section. If it was due to failure to progress, if baby was too large or pelvis too small her risk would be greater than, say, a woman who had a C-section for another obstetrical problem that didn't involve failure to progress in a previous labor."
What the statistics say
The American College of Obstetrics and Gynecology (ACOG) doesn't recommend vaginal delivery for any woman who has had three or more C-sections. Their risk of uterine rupture is thought to be higher. But the recent Cahill study found that of the 89 women who opted for a VBAC, none of them experienced this complication. This study's findings suggest that it would be "reasonable to reconsider" the ACOG recommendation, at least according to Cahill.
But both Fink and McFarling attest that a woman's risks of complications during delivery increase if she has had more than one C-section. "It is common to perform a repeat C-section and find the previous uterine scar to be paper thin – in fact, a window into the uterus," says Fink. "For such a patient to labor, one would imagine the outcome would be bad. With only a single thin sheet of cells holding the uterus closed, a uterine rupture would be imminent."
McFarling explains that placental implantation problems (placenta covering the cervix or growing into or through the uterine muscle) increase with each C-section as well as typical surgical procedure risks such as infection, bleeding and development of scar tissue. "In the case of repeated C-sections, the rate of rupture of the uterine incision during a trial of labor after one C-section is 560 in 100,000. That rate increases to 1,590 in 100,000 after a second C-section," McFarling says.
Now, all of this being said, both doctors do agree that if a mother has had a vaginal birth before having a C-section with the next child, their chances of a successful VBAC are much higher because the woman has shown that she can deliver vaginally. "Situations like this are often a result of an obstetrical condition during the second pregnancy and birth that required the C-section and this condition may not be present during her third pregnancy allowing her to undergo trial of labor again," McFarling says.
This should encourage some mothers who are strongly in favor of a VBAC. "The reason for the previous C-section is a very important factor to consider when a woman is weighing her options with her physician," says McFarling. "If the mother had a long and difficult labor requiring C-section, I would not be as encouraging for a trial of labor. However, if her first C-section was necessary because the first baby was in a difficult position such as breech or because of a herpes flare-up during labor, then her ability to deliver vaginally is unknown. In subsequent pregnancies, if there were no complications such as breech she would be a candidate for vaginal birth and trial of labor."
 
Ultimately, McFarling says, a VBAC is something a mother needs to discuss with her doctor. "Together they can weigh the risks and options to help mom make the best decision for herself and her family."
Wondering what it is like to have a VBAC? Check out our birth stories submitted by real moms describing their birth experience with a VBAC.
More on labor and delivery:
-VBAC: Choosing your caregiver
-Overcoming a traumatic or disappointing childbirth experience
-Do twins need to be delivered via cesarean