If Your Doctor Has Advised You To Be On Pregnancy Bedrest, You May Be Initially Excited At The Thought Of Relaxing In Bed. However, Many Pregnant Women Find This Excitement Quickly Turns To Boredom, Feelings Of Isolation Or Anxiety And Sometimes Even
If your doctor has advised you to be on pregnancy bedrest, you may be initially excited at the thought of relaxing in bed. However, many pregnant women find this excitement quickly turns to boredom, feelings of isolation or anxiety and sometimes even depression. Get tips here on staying connected and surviving bedrest without going crazy.
Tracy McGinnis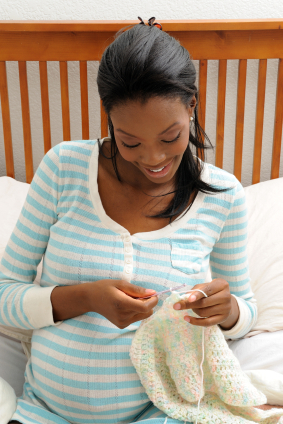 Natalie Cain, M.A., was surprised when her doctor told her at five months that she needed to be on bed rest. "My daughter was in a hurry to get here," recalls Caine.
Cain said she spent most of her time lying flat, and in order to help pass the time she did everything from writing and knitting, trying to get work done over the phone, and even catching up on her holiday card list.
Debbie Mandel, M.A., author of Addicted to Stress, says that bed rest can make woman feel isolated and alone.  "To feel less stressed anticipate something special every day as small as a delicious piece of chocolate," says Mandel. "Keep your eyes on the prize and don't think about what you can't do."
Passing the time
Before you decide on how you're going to spend your time on bed rest it's important you speak with your doctor about what you can and can't do. Your doctor may place limitations on activity, but try not to get discouraged and understand this is temporary.
Relationship therapist Irina Firstin, LCSW, says women can sometimes view bed rest as a nuisance.  She says women should sleep as much as possible while on bed rest. "We all know that lack of sleep is the biggest complaint of new parents."
Mandel says women can tap into their creativity. "Pregnancy is a creative time in a woman's life. You can write, paint, scrap book, and keep a journal of your thoughts and experiences." She also suggests catching up on reading, watching films, listen to music and stay connect with your friends –whether in person, over the phone, or on line.
"Get your posse scheduled to see you- you would do it for them," says Mandel.
Connect with friends and family
You may not want family and friends dropping by unexpectedly or may have many loved ones who live too far away to visit on a regular basis. With so many social networking sites out there it's easy to connect and keep those you love updated on your status without having to leave your bed.
Social networks and blogs specific to expectant moms are always great ways to connect to moms that may be going through the same emotions that you are. Message boards like those found right here on PregnancyandBaby.com, allow you to quickly set up a profile and connect with moms from all over the country to get advice on a variety of topics or just vent about how you're feeling.
Message boards cover topics ranging from love and sex to cooking, fashion and more. We also have specific boards for pregnancy bedrest -- check them out here!
"Between phone, email and Facebook, you now really have time to get deeply involved with your friends and their lives," says Firstein.
Mandel says pregnant moms on bed rest should seek out message boards and blogs that resonate with them. She encourages women to look for discussion that "sounds intelligent and addresses your needs, where you can contribute."
Do you tweet? You can also stay connected with us by following us on twitter!
Quick list of bed rest essentials
The experts with www.restassuredhomecare.com, suggest women set up a daily routine while on bed rest, ask their family for help, and set up services to keep the house running smoothly while on bed rest. 
They also offer tips on things to keep close by in order to make your bed rest experience as enjoyable as possible.  Some of these items include:
• Reading light
• Laptop with wireless internet
• Portable fan
• Telephone  (with emergency numbers close by)
• TV/remote
• Writing tools
• Disposable wet wipes
• Mini fridge
• Scrap booking supplies
More on surviving bedrest: