Pregnancy Sex Tips For Trimester 1, Trimester 2 And Trimester 3, Including Pregnancy Sex Safety Tips And Best Positions During Pregnancy.
For couples awaiting the arrival of their bundle of joy, the nine month long journey is a vital time to focus on the relationship that is about to change forever. From best positions to questions you are too embarrassed to ask your doctor, follow our tips to keep connected with your mate with our trimester specific guide to pregnancy sex.
Michelle Maffei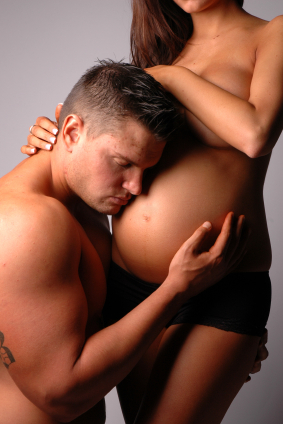 As long as there are no complications associated with your pregnancy, experts agree that maintaining a normal sex life with very few limitations is not only okay, but vital to your changing relationship. "The truth is, that many women find using sex to be a great diversion from the discomforts of carrying around a huge belly," advises Baltimore OB/GYN Dr. Saul Weinreb, MD, Senior Medical Advisor of askmyobgyn.com , "and it helps many women get rest and relaxation."
So, grab your partner and check out this trimester-by-trimester guide to sex before you fan those flames of passion:
First trimester
When nausea is down and your libido is up, continue as usual during the first trimester. Be mindful, however, of the pressure on your baby bump. The missionary position may have to be put aside until junior joins your family in the outside world.
But, long before your belly begins to grow, you may find your body changing, causing you to have to reach for your favorite moisture substitute. Worry not; Dr. Weinreb assures that choosing a plain water-based lubricant is a safe choice.
"Lubricants are generally safe to use, though some women find that they are more easily irritated during pregnancy, so they may want to avoid lubricants with various scents and flavors." After all, a plain water-based lubricant is what your OB uses during exams throughout your pregnancy.
Second trimester
Appropriately dubbed the "honeymoon trimester," it's time to take advantage of the fact that you feel good. With morning sickness (hopefully) behind you and the feeling of being huge yet to come, couples often times enjoy this phase of their pregnancy journey the most…especially in the bedroom.
Stay on top of the intimacy game by staying on top! This position not only keeps you from having to work around your belly, it also gives you the upper hand. But, even parents-to-be need a little spice in their life so if sex toys are on your love-making agenda, go ahead and indulge. "There is no evidence that vibrators are dangerous, and certainly many pregnant women have used vibrators without any problem," says Dr. Weinreb. Just be sure to use your body as a guide and don't do anything that is painful, no matter what toys you choose.
Third trimester
If you still have the energy in your third trimester to rendezvous with your partner, you deserve the credit and the know-how to get the job done comfortably! So, for couples who have not lost interest in intimacy at this point in the pregnancy, try the side-laying positions (who doesn't love to spoon?!) and hands-and-knees stances. Getting around your growing belly may be easiest when you face away from your partner to make the love connection.
Dr. Weinreb gives his patients the green light to continue their sex life long into the final trimester. "However, after your water breaks, do not have sex anymore, not intercourse, not with a toy, not with any more lubricant, as the risk of infection is significant."
Each pregnancy is different, so it is always best to check with your doctor first. If you get the green light, fan those flames of passion now because before long, it will be your little one that is keeping you up long into the night instead of a good love making session!
For more on pregnancy sex: