Can You Afford To Have A Baby? Get Tips On Saving Money And Spending Money Wisely When Planning For A Family.
Can you afford a baby? It's no secret that it costs money to raise kids, but it doesn't mean that raising a family has to leave a hole in your finances. From planning ahead to shopping smart, here are a few tips new parents can use to lessen the pressure on their bank account.
Michelle Maffei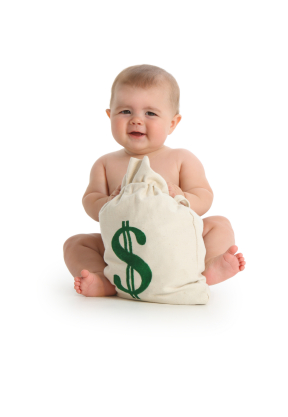 Budgeting can seem like a daunting task, but, it doesn't have to be a negative thing. "From a pure strategy standpoint, my experience has taught me that using the word budget actually tells people that they can't have exactly what they want," explains Julie Murphy Casserly, founder of JMC Wealth Management in Chicago and author of The Emotion Behind Money: Building Wealth from the Inside Out. So, before you throw the baby budget out with the bathwater, try these 10 tips on your family finances.
1. Take a good look at your budget
Categorize expenses into necessities and nice to haves and analyze your health insurance options to help create a budget you can stick to. But remember, "you ABSOLUTELY have to reward yourself along the way; this is key to financial success as a family," says Casserly. "If you feel as if you deny yourself over and over again, this is where financial acting out occurs."
2. Become a "fan" of discounts
Make friends – through Facebook and Twitter that is. Special offers for "fans" of your favorite brand name companies and retailers will help you start stacking up the savings.
3. Create an emergency fund
Make sure to start or beef up an emergency fund in your savings account. Especially where children are involved, those rainy days may come sooner than you think.
4. Arm your family with insurance
Insurance may be the best safety net you can give your family financially. From health insurance to accident insurance, the extra coverage will ensure that you won't go out of pocket for life's unexpected expenses.
5. Skip the charge card
Take care of as much debt as you can before the baby's born, and avoid charging unnecessary expenses as much as possible. Credit card interest is a major drain on the money you could be using elsewhere.
6. Set up a trust for your family
Mortality is never a fun topic, but protecting your family's assets and property once you're gone is vital. A family trust can also have tax benefits, too, so check with your advisor.
7. Save on your grocery bill
In addition to clipping coupons, making the switch to the store brand version of grocery essential is an easy way to stack up the savings. They're just as good, not to mention cheaper.
8. Buy big
Diapers and wipes can be bought in bulk, but do not buy more than you'll use before he grows out of them. Also, scope out local baby store rewards program that offer free diapers for frequent diaper shoppers!
9. Keep clothing costs down
Although you can take advantage of hand-me-downs, your baby can still sport brand new duds, too. Buy this season's styles in next season's sizes once retailers put them on clearance.
Find out here how to save big bucks on baby gear!
10. Start putting money away for college
It's never too soon to start saving. To get more bang for your baby's buck, look into CDs and bonds. Or, invest in a 529 College Savings Plan to grow money tax-free, so long as you use it for your tot's college-related expenses down the road.
Get more tips here on saving for college.

It's never too early to get your finances ready for baby. If possible, sit down together and figure out your needs and set some goals before junior is born. The more you plan ahead now, the more you can focus on the joys of parenthood.
For more tips on budgeting for baby: