Christmas And Holiday Gift Ideas For New Parents.
Are you looking for the perfect Christmas gift for new parents? We all know that the honor of becoming a parent is gift enough, but if you're looking for a little something that will help make things a little easier for that new parent in your life, here are a few unique gift ideas for this holiday season.
Michelle Bruns Maffei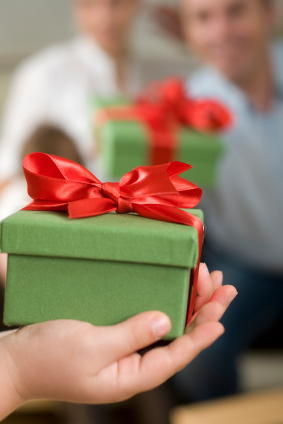 Handprint/footprint jewelry
When you give the gift of jewelry engraved with the actual footprint or handprint of the newborn in a new parents' life, like with gifts from CherishCharm.com, you can be sure it will be a gift they will treasure forever.
Fuss-free hats
If you have ever carried a diaper bag, you know how packed they can be. Check out Wallaroo hats, which are wrinkle-free, UPF resistant, and washable. Comes in a variety of sizes and styles for the entire family, including the new bundle of joy!
Green diapering to-go
Eco-friendly folks can still use cloth diapers during the holiday hustle when you give them disposable liners like Gro Baby Bio Soaker Pads. Can be disposed of, composted, or flushed, so it's still good to Mother Earth.
Memory blankets
Help Mommy and Daddy make good use of their darling's tiny outgrown clothes by turning them into handmade quilts like Willow Creek Memory Blankets. Gift certificates are also available so you don't have to sneak into Jr's closet.
Mommy books
Now left with even less time to herself than ever, quick read books are key. Books like, If You Give a Mom a Martini...100 Ways to Find 10 Blissful Minutes for Yourself, by Lyss Stern and Julie Klappas, filled with budget-friendly and practical ideas, are good de-stressors for those new to Mommyhood.
Check out our pick of the top parenting books for moms here!
Monogrammed burp cloths
Spit up isn't pretty, but the cloth the little burper uses can be! Personalized burp cloths can be ordered online with the sweet pea's name or initials on pretty patterns to make burping look stylish.
Photo neck ties
Upload your favorite picture of the little tyke to create a photo neck tie for the proud papa. Online retailers like Snapfish.com make it easy to order so Daddy can show off his pride and joy at all the holiday parties.
Soothing sleep
Soothing sounds or vibrations can help those tiny peppers drift off to dreamland when you pick up a portable crib/bassinet vibrator or sound soother for the family's newest edition. Attach to any crib, bassinet, or play yard and the baby won't be the only one getting much needed shut-eye.
Swaddler wraps
Receiving blankets work fine to turn that baby into a burrito during his "fourth trimester," but self-fastening wraps with leg pouch access like Kiddopotamus SwaddleMe Adjustable Infant Cotton Wrap makes a parents' job of swaddling their baby a breeze.
Video camera or digital camera
Present the proud parents with a new video camera or digital camera and they'll capture every coo and smile their pea in the pod makes. Just make sure they promise to share prints and upload videos for you to see and it'll be a gift that gives back!
Free Shipping!
Looking for last minute gifts? Don't let shipping costs keep you from giving your favorite new parents a present. Check out FreeShippingDay.com for more than 350 retailers that are offering free shipping on December 17, 2009, guaranteed to arrive by Christmas even Day.
If you're still stumped on what to give, pick up a gift card to their favorite restaurant and "coupon" for a free night of babysitting, courtesy of you! The gift of "couple's time" is as important as ever now that baby makes three, and it's something they're guaranteed to appreciate, especially after the holidays.
More gift ideas: