Expert Tips On Introducing Brothers And Sisters To The Baby Or New Sibling.
The anticipation of a new baby can be an exciting time for a family, but it can also be confusing for big brothers and big sisters. Before your bundle of joy arrives, follow these expert tips to prepare your child for the new baby.
Michelle Bruns Maffei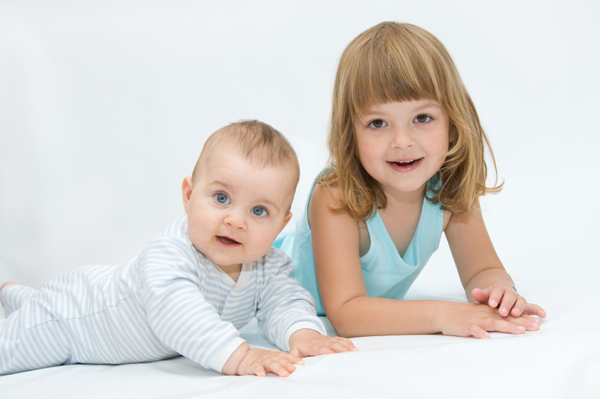 According to Dr. Scott Haltzman, author of The Secrets of Happy Families: Eight Keys to Building a Lifetime of Connection and Contentment, "Kids are naturally egocentric; they think they're the only thing that matters in your life. That's why it's confusing to them when you bring a new kid home. Think how a wife would feel if her husband came home from a day trip to announce, 'Look honey, I have a new wife.'"
Here are a few simple ways to help make it easier for your child to adjust to becoming a big brother or big sister:
Put it in their perspective
The idea that there is a little person inside mommy's tummy may be hard to grasp for a child. Explain how he himself started out in mommy's tummy and came to be the big boy he is today. There are plenty of great books that are written for young children on the topic, of which Dr. Haltzman recommends reading during the three months leading up to your due date.
Get them involved
When people ask the basic questions about your bun in the oven, have your little guy be the one with all the answers. Having him answer questions about "his baby" such as the due date and the name of his new sibling-to-be can help him feel like he is part of the experience.
Mommy's little helper
Teach your child about what he can do to help mommy and daddy once the pea in the pod joins the family. Start by having him help pick out the coming home outfit for the baby, how to properly hold a baby, and tricks like how to swaddle. These types of things can help him feel confident that he can help take care of the baby, too, instead of feeling like an outsider.
The gift of love
When your child comes to see you and the new baby in the hospital for the first time, make sure the new baby has a gift for big brother. This small gesture starts the relationship between siblings off on the right foot.
One-on-one
Once the new baby joins the family, your older child may struggle with his role in the newly-expanded family. Although juggling time between a newborn that is completely dependent upon you and your older child can be tough, it's critical.
"Try to give as much undivided time to the older child as possible," advised Dr. Haltzman. "When you do, don't focus on the baby. As far as your older kid is concerned, it gets old fast!" This will help give your older child the security of knowing that although he may have to share mommy and daddy now, he is not losing you.
Finally, check with your local hospital or child birth education resource about possible "big brother/big sister" classes. These programs give older siblings an idea about what to expect when baby brother or sister arrives. Some even include a certificate stating that your child is trained to be a big brother or sister!
Whether he is two years old or ten years old when his sibling arrives, the main goal is to let him know that he will still be special!
For more on helping new siblings bond: