Studies Show That Eating Fish During Pregnancy Will Help Improve Mood And Fight Depression
The list of things that pregnant women should not eat seems to grow every year, but it is the recent headlines that fish have been making that should catch your attention. You know that eating too much of the wrong kind of fish can be harmful due to their high levels of mercury, but did you know that not eating the right kinds of fish can make you more prone to depression? Find out how fish helps your mood and what fish are safe to eat when pregnant.
Michelle Bruns Mafffei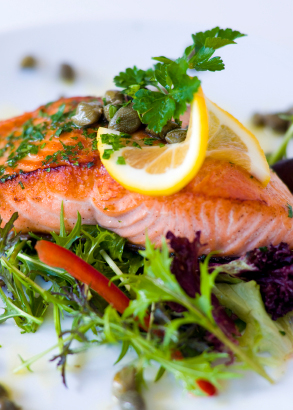 Having a bun in the oven is a joyous time. For some women, however, depression can creep in between all the anticipation and excitement. But, what if there was a way to help tip the emotional scales in your favor? Latest reports say that eating fish while you are expecting could be the ticket.
The depression-fighting fatty acids
A recent study links the low to no intake of omega-3 with a higher likelihood of depression in pregnant women. The good news is that fish and seafood are a source rich in this depression-fighting fatty acid. According to Dr. Ashley Roman, "Seafood is essential to a healthy diet for pregnant and new moms because it's rich in omega-3 fatty acids, selenium, and B vitamins. Plus, seafood is one of the most affordable, versatile and convenient foods available."
So, how much is enough? The study surveyed women who consumed more than 1.5 grams of omega-3 from seafood each week and found that they were less at risk for depression during pregnancy than pregnant moms who consumed less.
Steer clear of mercury
Women who are pregnant, however, have to watch their levels of mercury, also commonly associated with fish and seafood. Pregnant women are advised to avoid fish such as shark, swordfish, king mackerel or tilefish, but cutting fish and seafood completely out of your diet is the wrong way to go.
So, before you toss out the fish with the bathwater, the key is to know the right kind of fish to sink your teeth into while getting the most omega-3 and the least amount of mercury. Fill your growing belly with up to 12 ounces per week of the following seafood that, according to the FDA, contain the lowest sources of mercury and are a good source of omega-3 (based on a 3-oz serving):
salmon (mercury = 0.01 ppm, omega-3 = 1.1-1.9 grams)
pollock (mercury = 0.06 ppm, omega-3 = 0.45 grams)
shrimp (mercury = no detectible levels, omega-3 = 0.29 grams)
catfish (mercury = 0.05 ppm, omega-3 = 0.22-0.3 grams)
canned light tuna (mercury = .12 ppm, omega-3 = 0.17–0.24 grams) – limit to 6 oz per wek
In addition to fighting perinatal depression, omega-3 (the good stuff found in fish and seafood) is also power food for your growing fetus' brain! That's even more reason to reach for the fish of the day.
To keep track of what fish and seafood to avoid and which to dig in to, put together a small list and keep it in your wallet or purse. That way, you don't have to rely on your memory (which you are sure is giving way to "baby brain" as the months march on) in order to eat a healthy seafood meal. Bon appetit!
For more on fish and pregnancy: