Halloween Costume Ideas For Toddlers And Babies, Including Popular Halloween Trends And Diy Costumes.
It's that time of year again. There's a chill in the air, the store shelves are stocked with bags of candy and pumpkin patches are cropping up everywhere! Halloween is just around the corner, and, come October 31, you don't want to find yourself sifting through the scraps at the Halloween superstores for a great costume for your baby or toddler. There are tons of adorable costumes available online, and if you're crafty, you can skip the shopping altogether and make your little one's costume. Here we present our favorite Halloween costumes for kids and a few ideas for you DIYers.
Molly Cerreta Smith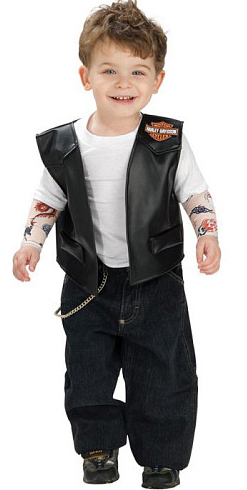 Take Flight
If your child loves airplanes, make him a little Red Baron for the day. This darling pilot outfit includes a velour bodysuit with faux lamb's wool collar and aviator hood. Available online at buycostumes.com for the sale price of $21.99, the costume is available for children 12 to 18 months.
Elmo's World
Your little one will take the neighborhood by storm this Halloween dressed as Sesame Street's favorite little red monster, Elmo. Available at toysrus.com for around $20, the plush Elmo bodysuit is perfect for chilly Halloween nights. Sized for babies 12 to 18 months.
Biker Boy
If your toddler is a little tough-guy-in-training, this officially licensed Harley-Davidson costume is a perfect fit! The costume kit includes a black faux leather vest with Harley-Davidson logo on the side and a white t-shirt with tattoo sleeves. The chain shown is not included, but would make a great accessory to the ensemble and can probably be found very easily at a thrift store. Available at toyrus.com for $19.99.
What's the Buzz About?
Dress your little honey in this adorable bumblebee costume, and she'll be sweeter than the candy in her trick-or-treat bag. The outfit comes with a padded black and yellow striped top, coordinating black bottoms with elastic waist, iridescent wings, and fleece antennae and stinger. Available in the following sizes: 12 to 24 months, 2T/3T, and 4T/5T. Find it at oldnavy.com for $22.50.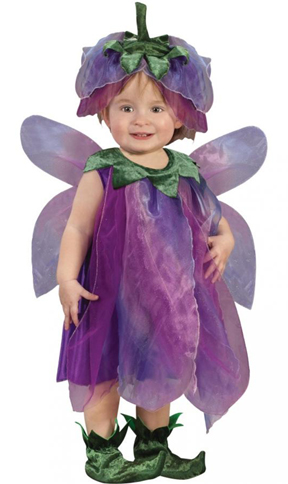 Sugar, Sugar
This sugar plum fairy costume is so cute we can hardly stand it! The costume comes complete with dress with layers of glittery purple petals, adorable green leaf booties, a flowering headpiece, and fairy wings. For toddlers up to 24 months, this costume is $28.36 at justkidcostumes.com.
You don't have to purchase a costume this year to dress your child in style. With a little imagination, you can put together your own costume for your little one with items you may already have or ones you can find on the cheap at thrift stores. Here are a few ideas:
Pirate's Booty
Turning your baby into a mini buccaneer might be easier than you think. You probably have many of the items you need already in your child's (or your) wardrobe. You'll need black pants or dark jeans — bonus of you happen to have some striped pants, a white collarless shirt (if you can't find one, just tuck the collar inside), a bandana (preferably red or black), a vest, a wide belt and some black shoes. Accessories you can pick up at a thrift store, party store or Halloween superstore include an eye patch, plastic sword, and "booty bag." Don't forget the temporary tattoos! But if you're really on a budget, simply draw a few on with some black eyeliner.
Little Lady
Turning your bitty baby into a little ladybug is a cinch. You'll need a red bodysuit or leotard, black tights, black shoes, black felt, red stretchy fabric, structure wire and fabric glue. Simply cut circles (about the size of a golf ball) from the felt and affix them with fabric glue to the leotard/body suit. Make "wings" with sculpture wire and red fabric. Simply stretch the fabric around the wire and attach it with the fabric glue. Affix the wings to the back of the leotard/bodysuit. You can pick up an antennae headband at a Halloween store.

For more Halloween ideas: