Ideas For Making Your Own Halloween Costume For Babies And Toddlers
Are you searching for the perfect Halloween costume for your baby or toddler? Why not make one? These fun do-it-yourself costume ideas are a great way to give your baby or toddler a unique costume without breaking the bank on a one-time-wear premade costume. In fact, in many cases components (or the whole outfit!) is totally rewearable as real clothing.
Sarah Caron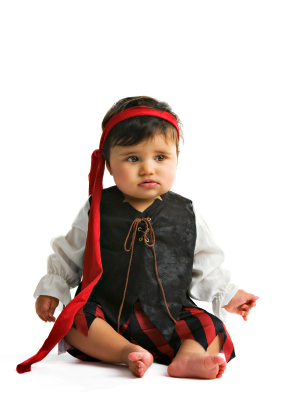 Who doesn't love Halloween? You get to dress up, parade around in fun, silly or scary attire and get C-A-N-D-Y! Well, at least you can once you are old enough to talk until you are a teen. But that doesn't mean that the youngest members of the family can't join in the Halloween fun by getting dressed up in a cute, easy do-it-yourself costume.
Pirate
Ahoy, matey! Your child needn't walk the plank to be a pirate this Halloween. You will need an oversized white oxford shirt, a black T-shirt, a pair of black or red sweatpants (leggings work too!) and a thick black belt with a big, shiny buckle. Using scissors, snip the sleeves from the shirt and then cut in a straight line down the front to make a vest (you may also want to cut the front neckline into a V). To dress, have your child put on the oxford (mismatching the buttons is a nice touch! and then put the black "vest" on top. Belt at the waist over the vest and shirt, pull on the pants and go. Black boots work best. This outfit is good for toddlers and preschoolers.

Peter Pan
Transport your tot to Neverland with a really fun (and almost totally reusable!) Peter Pan costume. You will need an oversized green polo shirt, brown leggings (check the girls' department), a brown belt and brown shoes or socks. To make the costume, cut the bottom of the polo shirt into jagged points. When it's time to dress, just belt the shirt loosely over the brown leggings and go. And, since the shirt will be big, it's easy to bundle kids up under their costume for chilly October nights. This is good for kids from infant to preschool.
Tinkerbell
What Peter Pan is complete without a Tinkerbell to shower fairy dust? Dressing your little girl up as Tinkerbell is a fun way to include her in the Halloween fun. You will need a green long sleeved onesie/bodysuit (aim for a minty color), cream or white leggings, fairy wings and a tutu in pink, white or green. Check out the dollar store or Target's dollar rack for the wings and tutu. To dress your baby, put the leggings on first, then layer the onesie or bodysuit over them (yes, snap it outside the pants!). Pull on the wings and tutu and go! You can also warm baby up by layering a green sweater on top, under the wings. This is good for infants and toddlers.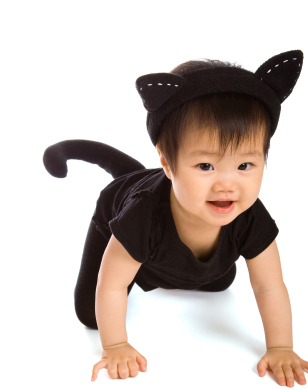 Little Witch
Who says that the big-girl witches get to have all the wicked fun? Dressing your tot up as a fun witch doesn't have to involve any shapeless polyester dresses. Instead, take a homemade approach. You will need a black onesie/bodysuit, purple and/or silver fabric paint, leggings (purple and black stripes, all black or white), a purple tutu and a witches hat. Use the fabric paint to create a design on the front of the onesie such as a corset-like weave or stars and swirls. To dress your baby, put on the onesie and leggings as normal and then layer the tutu over it. Put baby's hat on and you are read to go. This is good for infants and toddlers
Fred Flintstone
Who can forget the fun and iconic cartoon? Dressing your baby up as Fred can be fun and easy. You will need an oversized orange T-shirt, black fabric paint and one four-inch wide and two to three foot long strip of teal fabric. You may also want a tan or cream colored turtleneck and leggings for layering underneath (for warmth). To make the costume, cut the sleeves off of the T-shirt and cut the hem of the shirt jaggedly. Then, use the black fabric paint to draw triangles all over the shirt (front and back) and be sure to color them in. Then, cut the teal fabric into the rough shape of a wide tie. To dress your child, put the T-shirt on and loosely tie the teal "tie" around his neck. This is best for children who can walk.
Robot
With the popularity of Wall-E, Transformers and other robot flicks, it's no wonder that kids might love the idea of being a robot this Halloween. To make this costume, you will need 2 inch thick ribbon, silver spray paint, black non-toxic paint, a cardboard box (a box from Huggies Wipes is perfect for toddlers; a diaper box is perfect for preschoolers), a black turtleneck and black leggings. To make the costume, first cut off the top and bottom flaps of the box. You will be left with just four sides with openings at the top and bottom. Cut two slits or holes on both the front and the back of the box, across from each other. Then, spray paint the box silver. Use the black paint to draw robot details on. Attach two strips of the ribbon to the front and back, using the premade slits or holes (these will be shoulder straps). Layer the box over the turtleneck and leggings. If desired, a silver bowl makes a great hat. This is best for children who can walk.
Ruby Princess
Halloween costumes aren't the only one-time-use outfits. What about those Christmas dresses? Well, make yours do double duty this year as a Halloween outfit. You will need a red velvet (or satin or similar fabric) Christmas dress, a cape (white, black or red - check the dollar store first, then the costume store), clear plastic play shoes and a tiara. Dress up baby and you are ready to go.
For more Halloween ideas: