Maternity Halloween Costume Ideas, Including Easy Costumes, Do It Yourself Costumes And Unique Ideas To Make Your Bump The Hit Of The Halloween Party!
Halloween is just around the corner and if you are expecting, there are some super-cute ways to dress up your baby bump. You don't have to settle for just covering up — make your bump a part of your costume, and you're sure to attract lots of attention. Here we offer some of the top maternity costumes available online, as well as some ideas for creating your own.
Molly Cerreta Smith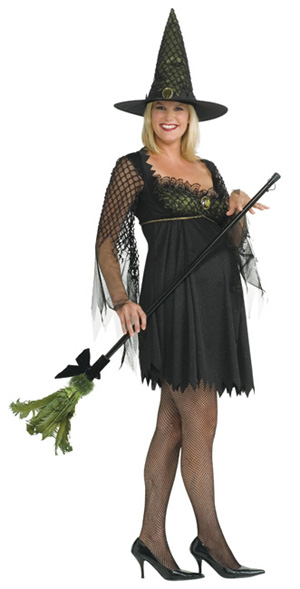 Hello, My Pretty
Just because you are pregnant, that doesn't mean you can't still be sexy! We love this sexy witch costume available for $39.95 at www.extremehalloween.com. The costume comes complete with a black velour dress with emerald green insert, gold rope tie, sheer sleeves with black net over sleeve, and a matching hat. Just add your own broom!
Flirty Flapper
Revisit the roaring 1920s with this cute and sexy flapper dress in red. It's available in plus sizes 1X and 3X, which should accommodate varying sizes of baby bumps! You can get this red fringe flapper dress with gold sequin trim on the collar for $36.99 at buycostumes.com, but you'll have to buy your own headpiece, feather boa, and black fishnet stockings. Other great accessories include long strands of beaded necklaces or pearls, an old-fashioned cigarette holder and a fringed handbag.
Argh, Matey!
Everybody loves a pirate — so why not dress as a pregnant pirate? The maternity pirate queen costume, available for $49.95 at www.extremehalloween.com, comes with a golden pirate shirt with attached brown lace-up vest and black net accents, pants with maternity waist and boot tops (attached), brown pirate hat with gold braided trim, and a black net belt. Fun accessories you could add? A sword, "loot 'n booty" bag (fill it with gold-foil wrapped chocolate coins and fake jewelry), and, an eye patch, of course!
Bun in the Oven
If you and your partner like to dress up as a pair, check out this funny "bun in the oven" costume, available online at www.extremehalloween.com for $52.95, which comes with the laminated foam tunic and removable fake bun. (Just use your own black leggings and long-sleeve shirt). The accompanying "bun maker" costume for him includes the apron printed with "The Bun Maker" on it and the super-huge chef hat for $27.95.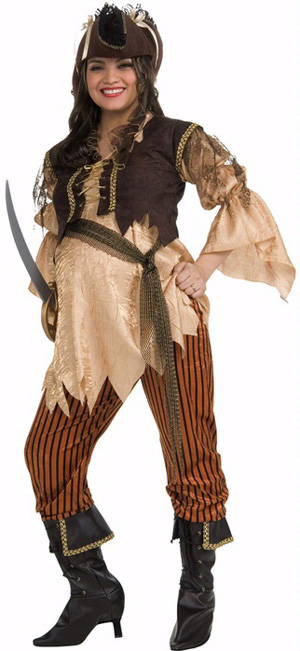 If you'd rather make your own costume, there are plenty of ways to dress up your bump! Here are some fun and simple ideas that will make your bump the center of attention!
Beach Baby
If you are brave enough to bare it all (almost!) this Halloween, then pull out your best bikini and get some body paints. Transform your belly into a beach ball using white, blue, red and yellow paint and voila!
Sports Star
If you are a sports lover, turn your burgeoning bump into a basketball, soccer ball, or baseball, and then dress the rest of your self accordingly (wear a jersey tank top, basketball shorts, sweat headband for a basketball player, for example).
Pea in the Pod
To accomplish this look, dress in green from head to toe – using green leggings and a long, fitted green shirt. Cut a vertical slit down the center of the shirt starting where your bump does, just enough to allow your bump to peak through. Paint your belly green so it becomes a "pea."
Your Little Pumpkin
For a classic costume that requires very little effort, let your belly become a pumpkin! Paint your belly like a pumpkin or give it some personality and paint a face like a Jack-O-Lantern. This costume does not require a whole lot else, so you can simply wear low-rise jeans and a shirt tucked up above your belly to really showcase your little pumpkin.
For more Halloween ideas: