Baby Shower Food Ideas That Are Easy To Make And Healthy, Including Finger Foods, Appetizers, Sandwiches, Desserts And More.
Looking for some delicious food ideas for your next baby shower event? Planning food for a baby shower is a little different than for other events like bridal showers or birthday parties, because there are a few more things to remember and plan around. But don't worry, we'll help you find the perfect baby shower food that is sure to please the guests and the guest of honor.
Sarah Caron
Pregnancy changes everything. That can mean the foods she used to love are now dreaded.  Here are some things to keep in mind when preparing your baby shower food menu.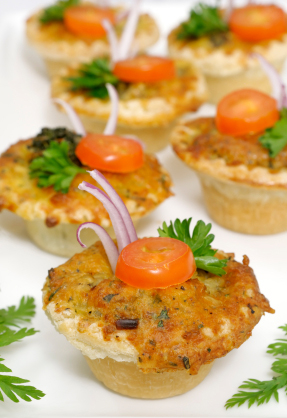 Planning the menu
Here are some tips to help you find food that is pleasing to your guests, as well as the pregnant guest of honor.
Avoid big smells - The sense of smell is heightened during pregnancy. Strong smells like eggs can be amplified in an unpleasant way. So, try to avoid smelly foods when planning.
Tastes change - A woman's body chemistry changes when she's pregnant, so things she used to love might not be high on her list. Be sure to ask the pregnant woman what she's avoiding these days.
Cravings dominate - For many women, cravings are so strong and so certain that they just cannot resist the magnetic pull. If you want to cater to the mama at the baby shower (and you should) find out what she's craving.
It's not like in the movies - The cravings and aversions highlighted by movies are fiction. Women don't always crave pickles and ice cream and they don't necessarily pig out on junk food.
Choosing the food
Planning food for a party involves several factors that will help you determine what food to make and how much to serve. First, how many people are coming to the party? What time of day will it be held? What type of food will be guests -- and the mom to be especially -- be most comfortable with?
Baby shower finger foods
What better way to celebrate the arrival of a new little person than with all sorts of miniature foods? Plan everything to be small bites. It will be both cute and functional -- since people can try a little of everything without overloading.
Here are some ideas for a mini food menu:
Party meatballs - Transform your favorite meatball recipe into small meatballs that are 1/2 inch to 1 inch in diameter -- perfect for a small bite.
Cheese cube and tomato skewers - Sweet cherry or grape tomatoes make a perfect companion for cubes of a hard cheese like parmesan or a creamy one like fresh mozzarella. Use fancy toothpicks to skewer them together.
Mini quiches - Cook your quiches in muffin tins, using a biscuit cutter to cut out rounds of dough. Or go for a crustless version, greasing the pan well before adding the egg mixture.
Sliders - These miniature hamburgers are perfect for a small bites menu. Mold small hamburgers by hand and cook them to desired doneness. Serve on dinner rolls.
Mini pizzas - roll out pizza dough and then use a biscuit cutter to cut out small rounds. Top with desired sauce, cheese and toppings and bake until browned.
Dessert shooters - Serve up a selection of desserts in shot glasses such as chocolate mousse with whipped cream and strawberry shortcake.
Soft cranberry banana cookies – Get the recipe here for these yummy and nutritious cookies.
Apple breakfast bars – These easy to make bars (click here to get the recipe) are perfect for a morning or brunch baby shower.
Get sandwiched
Sandwiches are a great food for showers, since you can cut them in halves and quarters and offer some great variety.
Finger sandwiches - These slender sandwiches are cut from regular sandwich bread with the crusts removed. Slice them into long rectangles and serve them on a platter. Great potential fillings such as cucumber slices and cream cheese, hummus and roasted red pepper, prosciutto and melon or shrimp salad with small shrimp.
Paninis - These toasty sandwiches make for a delicious platter. Simply prepare the sandwiches and press using a panini pan and press, an electric panini press or a George Foreman grill. Then slice and serve. Potential fillings include proscuitto, mozzarella, tomato and pesto, sweet onions, fontina and roasted turkey or roast beef, blue cheese and tomato.
Wraps - A fresh way to serve up a variety of sandwiches is to make wraps using tortillas and different fillings such as chicken salad, deli meats and cheeses. Secure the wraps with toothpicks and cut into thirds or quarters.




For more baby shower tips: