How To Make A Diaper Cake For A Baby Shower Centerpiece Or Gift.
Do you want to make your own diaper cake for a baby shower centerpiece or gift? Diaper cakes are all the rage for baby-shower centerpieces and new arrival gift giving. They are beautiful and practical, since the new mama is sure to use each piece of the cake. Best of all, they are very easy to make all on your own. Here we offer a simple step-by-step guide to making a diaper cake. Eat up!
Molly Cerreta Smith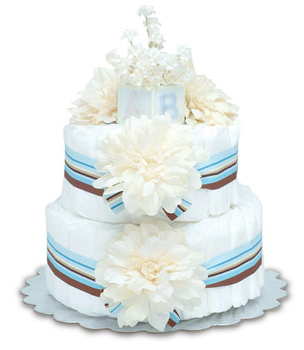 You hear the word cake and you start to get a little hungry, right? Well, don't worry about sabotaging your diet for this sweet little treat. Follow our step-by-step in creating the perfect diaper cake for a baby shower centerpiece or gift.
Step 1: Get yourself set up with all the supplies you'll need. You can get diapers from stores like Target or Wal-mart or a baby supply store like Babies R Us. You can use cloth or disposable diapers, but either way, you'll need about 60 newborn or stage 1 diapers.
Step 2: You can find the rest of the "ingredients" at a hobby or crafts store:
Ribbon of varying sizes; you'll need one spool that is 1/2- to 1-inch wide (chose a beautiful pattern to coordinate with the baby's nursery or solid pink, blue, green or yellow is great, too) and one spool of 1/4-inch ribbon to tie the rolled diapers.
Package of 60 regular rubber bands and six to 10 large rubber bands.
A plastic cake plate or charger (party stores have these in pretty options like silver).
Basic baby items including pacifiers, bottles, onesies, baby powder and shampoo, bibs, small stuffed animals or rattles, booties, etc. Plus an 8-oz. baby bottle and a 4-oz. baby bottle.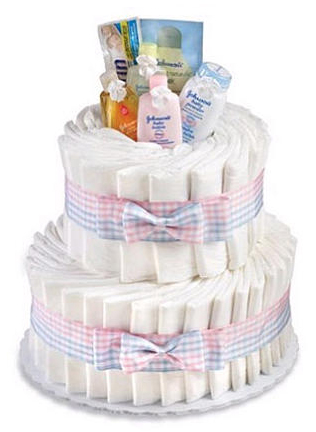 Step3: For the cake's bottom layer, take 20 of the diapers and roll them up tight, then secure each rolled diaper with a rubber band.
Step 4: Place the 8-oz. baby bottle in the center of the cake platter, then surround it with some of the diapers (about six should do it) and secure the entire ring of diapers with a large rubber band.
Step 5: Then build another ring with about 10 to 12 more of the rolled/rubber banded diapers. When completed, secure the entire ring with a large rubber band.
Step 6: Using the remaining diapers, roll them up tight, but instead of securing the diapers with rubber bands, use the 1/4-inch ribbon to tie a bow around the middle of each diaper. These will encompass the third ring of the first layer of your cake. Place them around the second ring to create the third and final ring. Then using the 1/2- to 1-inch wide ribbon, wrap the tier to secure the circle shape.
Step 7: Do the same thing for the second tier, but instead of three rings, you'll only need to make two. Use about six diapers and place them around the remaining part of the eight-ounce bottle that you placed in the center of the first tier, then use another 10 to 12 diapers to create the second tier. Then tie each of the second-tier diapers with the 1/4-inch ribbon, and wrap the entire tier with the thicker 1/2-inch to 1-inch wide ribbon as you did with the first layer.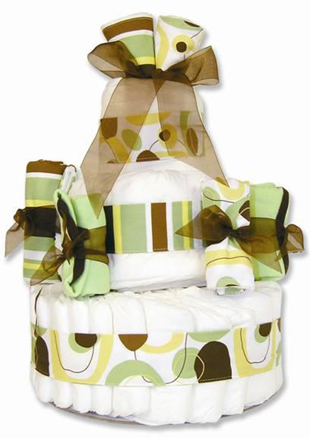 Step 8: You'll pretty much just repeat the process with the third layer of the cake, but you'll use the 4-ounce bottle in the center. You may want to assemble this layer on a stable surface, the attach it to the top of the cake. Again, you'll use about six rolled up and secured diapers around the bottle, and then tie the wide ribbon around the entire thing.
Step 9: Next, you'll add some "decorations" to your cake. Take the baby items you purchased and start tucking them into the folds of the diapers and between the ribbon and the diapers. You can place a fun stuffed animal or something very special on top, like an engraved silver baby cup.
The steps listed above are for a basic diaper cake, but as you get more comfortable making the cakes you can add more stuff to each item, such as swapping that eight-ounce bottle out for a mini bottle of champagne or adding flowers to your diaper cake. Get creative by making different shapes and using different items and colors.
Make a beautiful and useful baby gift for a shower or new arrival gift that is guaranteed not to get returned!
Do you not feel like making your own diaper cake? The pictured diaper cakes can all be ordered pre-made from Babies R' Us (www.babiesrus.com).
For more baby shower tips: