Tips On Finding Trendy, Yet Cheap Or Affordable Maternity Clothes Through All 3 Trimesters And Beyond.
One of the tasks that come with pregnancy is the inevitable shopping trip for maternity clothes. While you may not need them right away, you will at some point need to adjust your wardrobe to accommodate your gorgeous growing belly. But who wants to spend an arm and a leg for a wardrobe that you'll only wear for a few months? Check out our top 10 ways to save on both trendy and basic maternity clothes.
Molly Cerreta Smith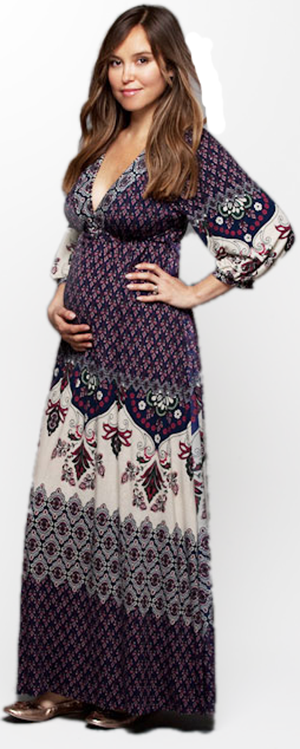 Tip # 10: Assess your current wardrobe
Before you do any shopping, assess your wardrobe to see what you already have that could work for at least the beginning part of your pregnancy. Elastic-waist items such as gaucho pants may last you through your entire pregnancy. You may find that you can actually can get away with purchasing very few maternity items.
Not sure how to dress your new pregnancy curves? Read: Do's and don'ts of pregnancy fashion
Tip #9: Bella Band
If you can't stand the thought of not wearing your favorite jeans for nine months, invest in a Bella Band, a stretchy tube of fabric that allows you to extend the use of your regular clothes and wear your maternity clothes that may be a bit big still. You can wear your pants/skirts unzipped and the Bella Band provides smooth coverage. It also provides a snug fit for maternity clothes that you have yet to grow into.
When will you start to show? Find out here.
Tip #8: Shop smart
When you do decide to shop for maternity clothes --  shop smart. Buy empire waist or legging styles (not necessarily "maternity") that you can wear after pregnancy, too. Maternity versions of certain styles tend to be a bit more expensive, so before you go rushing off to the maternity store, consider trying a larger size of "regular" clothing.
Pictured is the Momzee Verona Maternity Maxi Dress from DueMaternity.com. Maxi dresses are stylish, versatile and can be worn throughout your pregnancy and beyond.
Need more tips on stretching your wardrobe? Find out how to transition your "regular" clothes into maternity clothes here.
Tip #7: Shop sales
 If you've been coveting a special maternity piece, hold out until it goes on sale. Speak with the retailer to see when the next sale will run, or ask her to call you if the piece goes on sale. Always scour the sale racks before you check out the regularly priced items, but resist the temptation to buy something simply because it is a great deal.
Tip #6: Consider consignment
Second-hand, discount and consignment stores may have a negative stigma, but there are some real diamonds in the rough at these places. You have to have the patience and the time to sift through sometimes dozens of racks, but it's worth it. If you notice a small imperfection, such as a missing button, on an item you want, point it out to the cashier to see if you can get an additional discount. It never hurts to ask!
Find out how much you can save on maternity clothing on eBay here!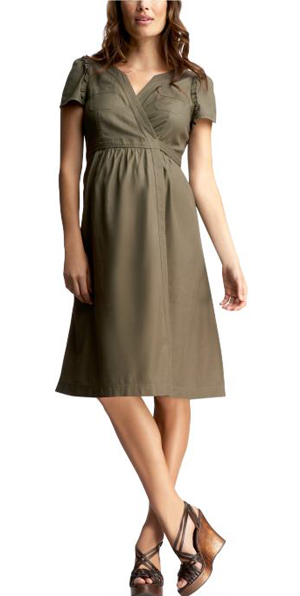 Tip #5: Maternity clothes swap
Don't be shy about seeking hand-me-downs. If you have some girlfriends who are already moms, ask them if they'd be willing to loan you their maternity clothes (assuming they are not pregnant as well). Take extra care with these items so you can return them in the condition in which you borrowed them. If an item gets stained, faded or ripped, be sure to replace it. But that small cost is minute in comparison to buying an entire maternity wardrobe.
Tip #4: Buy well-made basics
Don't buy cheap clothes that won't last through this pregnancy let alone any subsequent pregnancies you may be planning. You may think you are getting a deal, but if you have to replace the item after a few short months, you'll end up spending more than you'd bargained for.
How can you find affordable, yet stylish maternity clothes? Read: How to be a cute pregnant mom
Tip #3: Investment pieces
Consider a few nicer items, such as work suits, "investment pieces" that are worth the cost. Make sure these items are ones that you will wear again and again, such as black slacks. If you have an occasion for which you'll need a special dress that you will only wear once, try to avoid buying a brand new outfit. (Hit up your girlfriends again to see if they have any special occasion maternity wear.)
This Wrap-Style Ruffle Dress (pictured, right) from Gap.com can be dressed up for work with wedge heels and accessories or worn with flats and a ponytail for more casual days.
Are you wondering what maternity clothes basics you need? Read: The bare necessities: Building a maternity clothes survival kit
Tip #2: Borrow from your hubby
Check your husband's corner of the closet for items that you could borrow for a few months. His jeans might provide a looser, more comfortable fit, his track shorts could be great for lounging around on Sunday afternoon, and his big T-shirts can serve as comfy jammies when your sexy negligees no longer can accommodate your growing belly.
Tip #1: Online sites
Search yard sales in your neighborhood for gently used maternity clothing on the cheap. Online services such as craigslist are also great place to look. You can also compare prices on maternity clothes and find fabulous deals on trendy clothes by shopping online. Check out stores like DueMaternity.com, APeainthePod.com, Motherhoodmaternity.com, OldNavy.com and SierraMaternity.com.
For more pregnancy fashion tips: