How To Save Money When Planning A Baby Shower, Including Tips On Baby Shower Games, Baby Shower Decorations, Baby Shower Invitations, Baby Shower Food And Baby Shower Gifts.
A baby shower is a great way to help a mom-to-be, but it shouldn't place a financial burden on the hostess. Recruit a friend or two to co-host the shower with you to keep everyone's costs down and check out these money-saving tips for throwing a wonderful party.
Mary Fetzer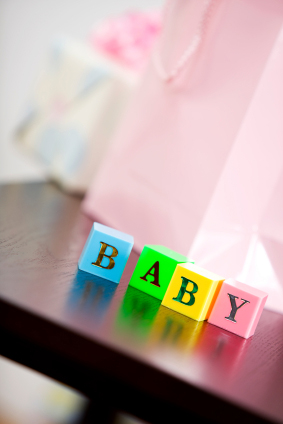 Guess what? You can have a beautiful baby shower celebration without breaking the bank. Here's how:
Location
Instead of renting an expensive banquet room or reception hall, check with your church, fire hall or local library about free use of their facilities. Consider hosting the shower in your home. If space is a concern, ask a friend with a larger home to provide the venue.
Baby shower invitations
Don't buy pricey packaged invitations -- make your own!  Have a fun girls' night in and create handmade invitations with construction paper, glitter and glue along with a favorite quote or nursery rhyme.
If you're creatively challenged, go online. Sites like FreePrintables.net enable you to download invitations at no cost. "DIY (Do-It-Yourself) event options are popular in this economy," says Cheryl Jablow of Social Frog Designs, Wedding & Event Consulting. "There are hundreds, if not thousands, of great DIY options online." 
Go one step further and eliminate paper, ink, and postage costs, too. Send e-vites – email invitations – from sites such as FreeInvitationStation.com and MyFunCards.com.
Baby shower games, decorations and favors
Lisa Friedman, co-founder of the social gifting site SomeoneSpoilMe.com, recommends having each guest contribute by bringing a decoration or a game. "This way," says Friedman, "everyone can share in the cost of the baby shower and help be a major role in it."
Don't go overboard on decorations. It's the spirit of the occasion that counts. Use (or borrow) cloth tablecloths and napkins and real plates to save money. If you prefer matching paper plates, cups and napkins, take into consideration how many guests you've invited. "The more people you have, the more materials you need," cautions Andrea Lyons, president of All About Presentation, an event planning company in Virginia. "Paper products are generally packaged in eight or ten," continues Lyons. "Use that as a guide for your guest count."
Randi Koski of Babyorbust.com combines gifts and décor in one. In lieu of balloons and streamers, Koski hangs a clothesline across a doorway or window. "Hang baby socks, bibs and onesies to the line," suggests Koski. "Mama gets to keep the items, turning your decoration into a gift!"
Simplify favors and games, too. "Rather than purchasing favors, bake the mom-to-be's favorite cookies," suggests Kristin Parker and Sandee Tisdale of PerfectingExpecting.com baby planning service. Display one at each place setting.
Don't stress over baby shower games! In fact, check out our list of the top 12 baby shower games here!
Baby shower food
Make the event pot luck and every guest can contribute a favorite treat. "When people are low on cash, it's very acceptable for friends to work together preparing food – just like the good old days," says Chris Henning, co-author of TwinFare Cookbook.  
Avoid preparing too much. "To ensure there is plenty for everybody, people spend a lot of money on food that goes to waste," says Lyons. "We've all been there -- our eyes are bigger than our stomachs, and we throw away the uneaten food left on our plates." Prevent this with portion control – eliminate the buffet line and serve plated food instead. Additionally, call guests who did not respond to the invitation so you can determine how much to prepare without worrying about folks just showing up.
Timing is everything. "Schedule your celebration for mid-morning or mid-afternoon when a light menu can be served," recommends Becky Long, author of Themed Baby Showers. Hold the shower from 2-4pm and "serve appetizers or dessert with lemonade and coffee," suggests Jablow. This is not a normal dinner time for most, so light snacks or hors d'oeuvres are appropriate.
Baby shower gifts
Showers can be expensive for the attendees as well. The idea is to shower the mom-to-be with the essentials she needs– diapers, wipes, onesies, baby wash and laundry detergent, as well as baby gear and nursery items. To save money, encourage guests to go in on a large item, such as a stroller or high chair, with a few friends. Encourage the mom-to-be to register for gifts that have a wide range of price points so guests don't feel pressured to spend a lot of money. After all, moms need diapers and burp clothes as much as they need a pack-n-play! On the invitation, include where the mom-to-be is registered to make gift-buying a breeze.
Another way to save money on gifts while being eco-friendly is to encourage recycling. "On the invites, ask guests to bring something their children no long needs or uses," suggests Friedman. Kim Miller attended a shower in which the guest of honor requested gently used and handmade items. "We enjoyed telling stories of how we found our thrift store or garage sale deals," says Miller. "Babies grow out of their clothes so quickly that it wasn't hard to find some items that were brand new!"
When it comes to throwing baby shower, it's the spirit of the occasion – not the cost of the party – that makes it successful.

Read more on baby showers: