Tips On Decorating The Baby Nursery, Including Colors, Decorations, Baby Gear
Getting the baby nursery ready for your bundle of joy is one of the most exciting parts of being pregnant. Before you hit the stores (or even begin painting), check out these tips for decorating and creating the perfect space for your baby.
Michelle Bruns Maffei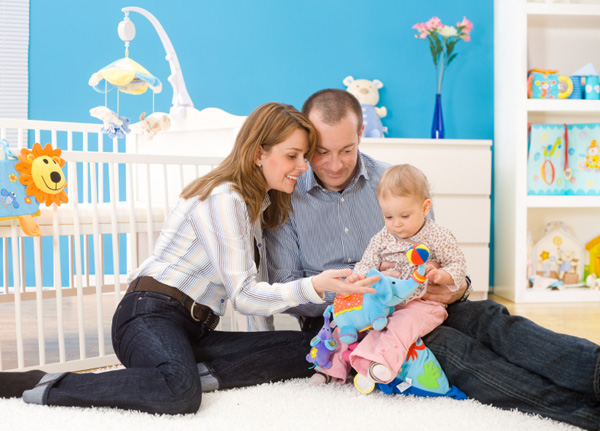 The primary design tip to consider when decorating a nursery is that you, as parents, will have to live with this room in your house for years to come. Will it clash with the rest of your house, or sing harmoniously with your taste in style? Before you dip a paint brush or nail a single nail, picture this room as part of your home. Check out more tips to help you decorate your baby nursery like a pro:
Pick a classic theme
Choosing a theme for your tiny tot's nursery takes thought and planning. Themes gives unison, but keep in mind that kids can grow out of them as often as every couple of years.
If you do want to go with a theme, choose a longer-lasting one such as flowers or patterns for girls, or nature or nautical for boys. Opting for characters that are classic are likely to stick around a few extra years. Otherwise, tie the room together with colors and/or patterns that can evolve as quickly as your child's taste will change.
Choose your colors
The age-old notion that pale pink is for girls and powder blue is for boys has been thrown out like last week's diapers. Sherbet orange, lime green, and bright turquoise can be seen adorning the walls that darling will call his or her own.
But, the question of whether or not pastel colors soothe an infant or if bright colors make babies feel restless is still a question that baffles most parents-to-be. Glen B. Earl, Ph.D., offers some insight. "Colors have no affect on newborns, however, by 2-3 months they can begin to distinguish between colors; at 6 months they can see color," he explains. "Infants are not soothed or become restless by colors.  At first, infants cannot even see colors and as they get weeks/months older, there is no meaning attached to colors - except as a means of learning and interest." So, dip your paintbrush and don't be shy!
Get in gear
Part of putting the nursery together is filling it with all things baby. Some furniture you may want to consider for your sweet pea's space include:
Crib – a convertible crib (a crib that turns into a toddler bed, twin bed, etc.) will give you more mileage than a standard crib. Look for cribs with storage drawers underneath for an added bonus.
Changing table – a place to pamper your baby's bum is key, but many people find a changing pad on top of a mid-height dresser works just as well. If you do choose to purchase a traditional changing table, look for one that converts into a dresser to make it worth the cost.
Dresser – Not everything can be hung in a closet. A small dresser or a dresser that can grow with your little sprout works best. Remember to secure it to a wall if it's a tall one; you don't want it tumbling on top of your toddler should he or she begin climbing it.
Storage – Tiny tots come with lots of small stuff. Using colorful storage bins, canvas baskets, and wicker containers to keep clutter at bay are both functional and pleasing to the eye.
DIY decorating
With all the products available now days for do-it-yourself decorating, even the decorating-challenged can skip the interior designer. Vinyl wall clings offer alternatives to painting, wall-sized murals set the scene in seconds and your local baby stores offer all the accessories you'll need to coordinate like a pro.
In addition, don't underestimate the power of functional décor. Using creative shelving like open cubes mounted to the wall, or cute storage containers shaped like animals, can serve a double function. Be creative!
Before you go out and purchase everything you need to create the perfect nursery for your baby-to-be, adding many of these items to your registry can help with the costs. So, wait until after your shower to put the final touches on the room your pea in the pod will soon be making sweet dreams in!
For more on baby nursery design: