In This Excerpt From The Book Bond With Your Baby Before Birth, Author Kim O'Neill Shares Tips On Making A Connection With Baby In The Womb.
Did you know you can make a connection with your baby before he or she is born? In this excerpt from her book, Bond with Your Baby Before Birth, Kim O'Neill shares ways for you to tap into the deep intuitive powers of pregnancy and bond with your baby.
Kim O'Neill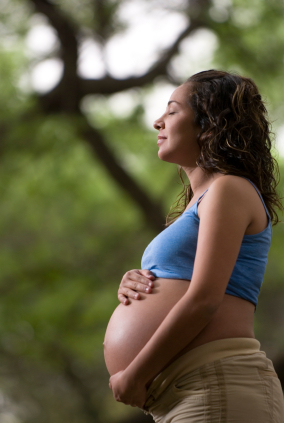 How should you set the stage to bond and connect with your baby?
Setting aside private time
This is the most productive and proactive method of creating a clear, unmistakable dialogue between you and your unborn child. If you're wondering what you can do to build your ability to talk with your unborn baby, this is it! By devoting no more than half an hour per week, you have the opportunity to dramatically enhance your ability to "hear" what your child is trying to communicate. Remember that as each moment ticks by, you are losing significant bonding opportunities, as well as missing out on the vital information he is trying to share.
Step One: Make the commitment
Chose a specific day and time to set aside each week to practice communicating with your unborn baby. Consider this ongoing commitment written in stone.  If you allow anything to interfere (unless, of course, you have a sick child) you'll never make headway. Ironically, have you ever noticed that whenever you set a new agenda, or goal, something typically occurs to interrupt your plans? Don't allow that to happen. Stick with your commitment. You'll never have this time back again!
Step Two: Choose a place to practice
If you don't choose to set your alarm extra early and speak with the baby first thing in the morning, then later in the day you'll need to find a place peaceful enough to allow you to hear him. This doesn't mean you have to find a locale so quiet you could hear a pin drop, but you're not going to be productive in the neighborhood coffee shop, the grocery store, the nail salon, the gym in a noisy office at home with children underfoot, or in any other situation where you're sure to be disturbed or distracted.
Keep in mind that you're going to devote at least thirty minutes each week to this project, so if the environment you choose is outside your home, it needs to be safe and secure. It doesn't matter I you always choose different environments – in fact, practicing in different places with allow you to recognize which environments and times of day work best for you.
Step Three: Clear the decks
While it's true that you can talk to your baby at any time and in any environment, for you to be able to clearly him speak back to you will require the elimination of as much peripheral noise and distraction as possible. Once you become more sensitive to communicating with your baby, you'll be fully capable of hearing him in almost any environment, no matter what's going on! For now, turn off your cell phone, TV, and radio, move away from the computer, close your office door, and if you have children, why not play a movie for them in another room, or simply wait until nap time?
Step Four: Open the floor
Once you've decided on your quiet time and place and you've gotten yourself comfortable situation, it's time to begin. Say hello to your munchkin and ask what he'd like to talk about. Be patient. Remember, this is a new skill. Listen to what you hear inside your head and trust that it's the baby. At first, you're going to believe that you're talking to yourself, and you might become discouraged or start to feel foolish. Don't stop – persevere! Have faith that the first thing that pops in your mind, whether it's one word – or three paragraphs—is the answer.
Begin the dialogue, and as the days and weeks unfold, you'll develop confidence that the voice inside your head can't be you because you're receiving all sorts of intuitive information that actually becomes a reality. 
Read more: