Father's Day Gift Ideas For New Dads And Expecting Dads.
Don't look now, but Father's Day is coming ... and it's coming fast. For those new dads and dads-to-be, this is their first chance to be celebrated. Find out our pick of the top gifts dad is sure to love!
Sarah Caron
We demand that our beaus and hubbies honor us on Mother's Day (even if we are barely pregnant -- well, at least I did), so it's only fair that we celebrate them on Father's Day too. But it goes without saying that the first one is the hardest, since it is all new and unfamiliar. But fear not, here are some awesome presents sure to dazzle and delight those new dads and dads-to-be in your life.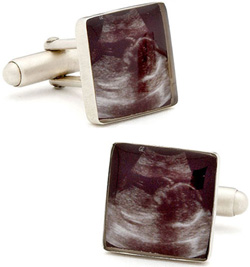 A picture is worth
New dads and dads-to-be are so proud to show off their babies. Give proud papas a chance to show off their babies (and babies-to-be) while at work, on the road or wherever with an awesome photo gift. Forget the mousepad with junior's first photo (though that could be cute too). For the proud business dad-to-be, check out the awesome Sonogram Photo Cufflinks (pictured) from CuffLinks.com. You just send in your sonogram photo and cufflinks are custom-printed. Not only will the dad-to-be be able to show off the sonogram photos wherever he goes, but he need only flick his wrist for a glimpse of the little life. How fun is that? There is also a pair of perfect photo cufflinks available, also from CuffLinks.com. The Custom Photoscribe Cufflinks can be customized with any photo.
For the high tech dad-to-be, load up a digital photo frame with great photos of your little ones. Choose the shots that represent the best memories, the cutest moments and of course some shots of dad and baby, and transfer them onto the appropriate memory card for the digital photo frame. The best thing is that you can get digital frames in a wide variety of sizes ranging from a keychain to a big desk frame - so it works just as well for the dad on the go as it does for the desk-based dad.
Get geared up
It's not called Father's Day for nothing: this day is all about celebrating dads and all that they do for kids. But before dad can coach that first little league game or chaperone that Cub Scouts outing, dad has to get from point A to point B with baby. Give him the ultimate dad diaper bag to help him get around with everything he needs. DadGear (DadGear.com) makes a great line of courier and messanger style diaper bags that are just for dad. The bags come preloaded with a built-in wipes case and an ultra thin changing pad. And best of all, they are guy-appropriate.
Books for dad
You can also help dads prepare for the trials and tribulations of fatherhood with a good book on being a dad. Almost every bookstore, everywhere, has a table set up with books just for dads (even new dads!). Find one that speaks to the new dad or dad-to-be in your life. Some good newer volumes include, Why a Daughter Needs a Dad: 100 Reasons by Gregory E. Lang, The Expectant Father by Armin A. Brott, and Hit The Ground Crawling by Greg Bishop.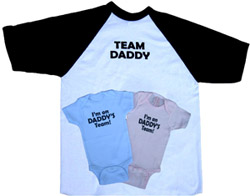 Get sporty
If he's into sports, then he probably is salivating at the thought of sharing his sports-love with his kids. Indulge that passion with a sport-themed gift that can bring together both dad and baby -- dad-sized and pint-sized jerseys embossed with dad's favorite team's logo (you can pick the sport he most loves, though it is baseball season now so those will be the easiest to locate). Imagine the cuteness as they watch the big game together. Pictured is Team Daddy matching shirts from www.footstepsclothing.com.
You could also treat dad and baby to their first game together. Whether it's tickets to the local minor league baseball team or a fall football game, giving dad a day at the game with baby is a fun tradition to start that they can carry on forever. (And it might even give you a day off!)
Relax
New dads and dads-to-be work hard too, so give them a chance to unwind and work out all the tension. After all, we all know how taxing it can be to have a new baby (or an emotional mom-to-be) in the house. Set dad up with a special spa date for a massage (yes, men love them too!). Pick a spa that's close to home and that gets good recommendations (be sure to ask around).
Another way for dads to get a present that will help them unwind is to pick them up a special, comfy, plush rocking chair just for dad and baby. Not only will dad be able to sit down, rock and relax, but it also is a good way to encourage that all-important dad and baby bonding time.
Let him know
Above all, just be sure to let dad know how much you appreciate all that he does for your new baby or baby-to-be. A heartfelt card, a favorite meal and a nice day is a great way to do that.
Get more Father's Day gift ideas here: