Maternity Swimwear Options, Including One Piece, Bikini And Tankini Bathing Suit Options For Pregnant Moms.
Summer means rising temperatures, poolside get-togethers and beach vacations. But if you are feeling shy about revealing your pregnant body in a bathing suit -- have no fear! There are some really cool maternity swimwear options available that will make you feel confident and, yes, even sexy enough to flaunt that pregnant body poolside. Besides, there is nothing more relaxing during pregnancy than floating in a nice, cool body of water. Check out our top picks for cool maternity swimwear.
Molly Cerreta Smith
We asked fashionista and first-time mom-to-be Mandy Krewson, owner of Mandy's boutique in Scottsdale, Arizona, to share some advice on how to find the perfect maternity suit -- and we've also sleuthed out some super-cute styles that you'll want to get your hands on!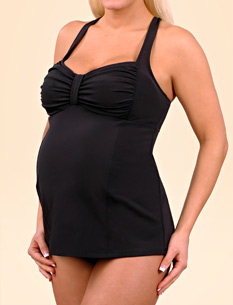 Simple and solid
Mandy's first tip when it comes to selecting a maternity swimsuit is to keep it simple. "Wear solid colors that flatter your body," she says. "I always feel best in black — it is the most flattering color to hide some of those new curves." But if you want to get fun and flirty, Mandy suggests pinks, reds and blues.
Black is always flattering, as Mandy says, and this style is anything but "basic black." This Pea in the Pod bathing suit (pictured) has a sexy cross-back detail that ensures you'll look as good getting out of the pool as you do getting in! Find it at destinationmaternity.com for $58 (top); it looks great with the side-ruched bottoms, $38, but other options are available.
The halter-style tankini by Prego is fun and sophisticated at the same time. The basic black will be figure-friendly, the retro polka dots are small enough to maintain a sophisticated look, and the side ties on the tankini bottoms are just plain flirty! Find it for $78 at duematernity.com.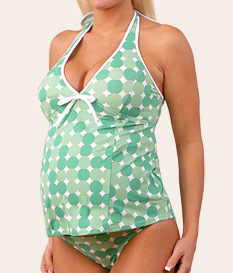 Prints and patterns
When it comes to prints, take caution. But according to Mandy, you don't have to avoid them altogether. Though too much print does add weight to any body type, she says selecting a basic two-tone print can help downplay this aspect.
This patterned halter tankini (pictured), available at desintationmaternity.com for $34.98, follows Mandy's suggestion of sticking with two-toned prints and patterns.
For another fun printed option, go wild with the safari-inspired tankini by Liz Lange for Target. At just $22.99 at target.com, you can afford to get a cute cover-up to go with it!
Rock your belly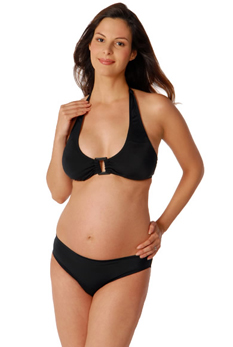 You should wear only what makes you feel most comfortable and beautiful, but Mandy suggests tankini and one-piece styles for the first and second trimesters because "the body is still growing and taking shape." However, if you are feeling like a hot mama, don't be afraid to bare that belly in our third trimester. "I love bikinis for the third trimester," says Mandy. "A woman's pregnant stomach is such a beautiful sight — we should flaunt it and be proud of it! It won't be that way for long — so enjoy!"
Take Mandy's advice and don't be afraid to show off your belly at the beach! This Prego maternity bikini (pictured) allows you to rock your curves, but it still offers the support of a halter style. Available for $60 via bellydancematernity.com.
If you're still too shy to boast a full-on bikini during pregnancy, the Maternal America maternity flutter tankini is just right for you. We love the tan-through mesh fabric that offers a peek-a-boo view of the belly, and the color just screams summer. Available at nordstrom.com for $98.
While there are tons of styles out there, you don't have to spend a fortune on a cute maternity suit that you might not wear next summer. In fact, Mandy suggests checking out Target and Destination Maternity for some great, budget-friendly options. Here we show you a few great styles that we just love for summer.
Get more pregnancy fashion tips: